The Reader

CROWN POINT | As part of the Crown Point Library's Grand Opening celebration, Dyer artist Tom Torluemke, designer of "The Reader," met with library patrons and staff. Torluemke explained the concept behind his design of the art work which hangs along the library staircase from the second to …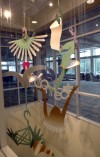 CROWN POINT | A work of art meant to inspire and uplift patrons of the new downtown library was installed Monday as the building nears an Oct. 22 opening.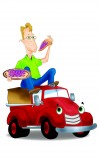 Two young women were discussing lunch options as the elevator descended to the lobby of our Loop office building recently, and it came down to the two mobile food trucks that park outside on West Jackson—one offering Jamaican "jerk" meats, the other Asian cuisine. The meals aren't prepared i…
7 Day home Delivery $2.25 a week!

Chambers of commerce across the region are teaming u…
Poll
Loading…
Who should win the Democratic nomination for Lake County assessor?