Thomas Snyder
Ivy Tech Community College has merged the large northwest and north central regions in a cost-cutting move. The university has a nearly $60 million funding gap, according to Ivy Tech President Thomas Snyder.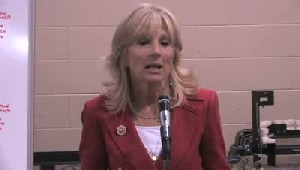 Jill Biden, wife of Vice President Joe Biden, visited with staff and students at Ivy Tech Community College.
Ivy Tech Community College leaders expect 2 to 3 percent more students enrolling this fall over last year, with an enrollment of 120,000-plus students statewide.

Poll
Loading…
Has your family been affected by drug abuse?