Tim Hardaway

ANN ARBOR, Mich. | Illinois started strong and seemed to be setting itself up for another impressive win after defeating top-ranked Indiana, Gonzaga, Butler and Ohio State earlier this season.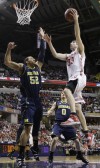 ANN ARBOR, Mich. | Tim Hardaway Jr. was born in March 1992, the same month the Fab Five captivated the college basketball world by swaggering their way to the Final Four as freshmen.

Poll
Loading…
Should all units of local government join the Shared Ethics Advisory Commission?