Tom Snyder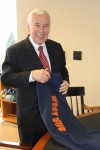 WASHINGTON | Richard Lugar takes a seat at a well-worn circular conference table. In an office filled with shiny, new fixtures, it's a notable relic from his 36-year career in the Senate.

Ivy Tech Community College has developed a new program to provide Indiana companies with customized employee training.

Most Popular
Poll
Loading…
Should Porter County Auditor Bob Wichlinski adjust wages to reflect cross-training in his streamlined office?