Turnaround Specialist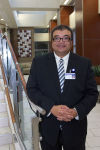 During his five years as CEO and President Ian McFadden has seen Methodist Hospitals become a leader in change and innovation.
The Charter School of the Dunes in Gary's Miller area is going forward with construction of its new building even though Ball State University decided to stop sponsoring the school. It's a gutsy move, but not the only one the school needs to make.

Poll
Loading…
Should Winfield hire a town marshal and deputies?