U.s. Steel Corporation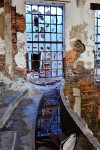 Don't go alone. Don't trust the handrails. Bring a flashlight. Jump only at your own risk. These are just some of the cardinal rules of urban exploration.
CHICAGO | Development of the long-vacant U.S. Steel site on Chicago's South Side may finally get under way next year.

Poll
Loading…
Do you agree with the administrative merger of Purdue University's Hammond and Westville operations?