United Arab Emirates
The United States may have averted a debt default, and ended the federal government shutdown, but costly political reverberations continue. The experience of Democratic and Republican leaders frozen in unmoving partisan positions has been unnerving, abroad and at home.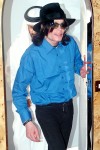 In this photograph made available by Total Communication, on Tuesday, Aug. 30, 2005, U.S. popstar Michael Jackson is seen in Dubai, United Arab Emirates. Jackson flew to Dubai from Bahrain a week ago and plans to stay for a few days more at a private residence in Dubai, a news release says.

Poll
Loading…
Do you agree with the administrative merger of Purdue University's Hammond and Westville operations?