United States Armed Forces
The wars in Iraq and Afghanistan are either over or winding down, but the specters of death and justice have taken a disturbing new tandem twist this year with the issues of U.S. military suicides and sexual assaults within the ranks.
As Veterans Day approaches on the auspicious date of 11/11/11, I am again reminded of the enormous contribution made by so many of my fellow Hoosiers to the defense and security of the United States of America. Indiana has a record of military service — and sacrifice — to this nation that is…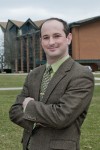 Though U.S. military air support has stabilized the position of rebels fighting against the regime's dictator in Libya, it is unclear if it will turn the tide in the rebels' favor, two region political science experts said.

Poll
Loading…
Should Winfield hire a town marshal and deputies?