University Of Toledo

Origami, which began hundreds of years ago in Japan, has in recent decades attracted the attention of artists, scientists and mathematicians, said Vanessa Gould, director of the 2010 documentary "Between the Folds."
VALPARAISO | The city's next venture into the art world might be renting sculptures to create an art walk along Cumberland Drive between the YMCA and Purdue North Central.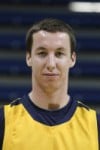 Knee injuries have plagued Valparaiso High School's last three Division I recruits. For Hayden Humes, a 2009 graduate, it also runs in the family.

Poll
Loading…
Should Winfield hire a town marshal and deputies?