Va Clinic
It is just shy of two years since the Adam Benjamin Jr. Veterans Affairs Outpatient Clinic in Crown Point opened. Since then, the medical staff has been healing patients in the facility, which is nearly twice the size of the old building. But festering financial wounds remain untreated.

The work was finished nearly two years ago, but outstanding bills still haven't been paid to many of the subcontractors that built a new Veterans Affairs clinic in Crown Point.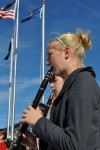 CROWN POINT | Madison Street is the home of the new Veterans Administration Clinic, and to  celebrate its opening recently, the Crown Point High School Concert Band, directed by Johann Sletto, performed.
Poll
Loading…
Should every unit of local government ban nepotism?