Valparaiso Coach Joe Otis

A slab of steak. A killer cheeseburger. Chicken wings that sting the lips and numb the tongue. Nothing separates a cast-iron gut from a frail tum-tum like a food challenge.

Joe Otis is to Indiana high school basketball what David Letterman is to late-night television, except Otis has more interesting things to say.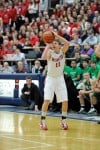 MICHIGAN CITY | The first time No. 1-ranked Munster and Valparaiso met back on Jan. 29, the final was more like a JV score.

Most Popular
Poll
Loading…
Will you be glad to see bus service restored in Hammond?