Valparaiso Volleyball

ST. JOHN | Hang around enough gyms and the routine cheers become white noise like elevator music.
CROWN POINT | Kate Bontrager had enough of all the noise coming from Crown Point's side of the court.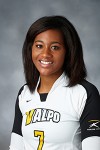 VALPARAISO | Richard Dent has spent the last nine years waiting patiently for a phone call from the Pro Football Hall of Fame.

Poll
Loading…
Are you content to let the courts rule on the fate of same-sex marriage?