Valpariaso Vikings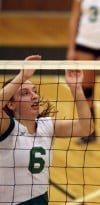 VALPARAISO | When coaches hear they're getting a transfer student, they secretly hope for a "franchise" player.
PORTAGE | Valparaiso junior Sonja Schaefer was definitely happy to be playing doubles tennis Tuesday.

Kelly and Caitlin Kennedy have been watching Valparaiso High School tennis matches together the past few seasons.

Most Popular
Poll
Loading…
Should Winfield hire a town marshal and deputies?