Valpariaso Vikings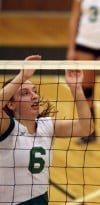 VALPARAISO | When coaches hear they're getting a transfer student, they secretly hope for a "franchise" player.
PORTAGE | Valparaiso junior Sonja Schaefer was definitely happy to be playing doubles tennis Tuesday.

Kelly and Caitlin Kennedy have been watching Valparaiso High School tennis matches together the past few seasons.
Poll
Loading…
Do you expect the former Sheraton Hotel in Gary to be demolished by the end of the year?