Vegetable Oil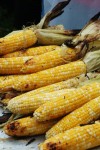 These days, Michigan peaches, heirloom tomatoes and fresh sweet corn are making return engagements to my summer kitchen and I can't seem to get enough of them.

With hundreds of pet food products available, how do you decide what's best for your pet? It's smart to start with the label - but labels can be confusing if you don't know what to look for.

Poll
Loading…
Do you agree with the administrative merger of Purdue University's Hammond and Westville operations?