Walsh Construction

Construction at Community Hospital reached a sky-high milestone Friday as workers completed the tallest point of a new tower.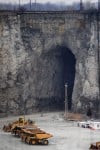 THORNTON | No one was injured Wednesday when a fire broke out during construction work on the Deep Tunnel near the Thornton Quarry and forced an evacuation, authorities said.

Most Popular
Poll
Loading…
Will you be glad to see bus service restored in Hammond?