Washington D C

W.F. "Bill" Wellman's recent visit to Washington, D.C., was a long day full of surprises.

HIGHLAND | Fifteen-year-old Richard Garza III, of Highland, led his family on a trip of a lifetime thanks to an essay contest he entered last summer.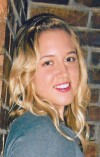 Natalie Johnson, 18, gained valuable insight by attending the 2010 Congressional Academy for American History and Civics.

Poll
Loading…
Should Porter County Auditor Bob Wichlinski adjust wages to reflect cross-training in his streamlined office?