Wesley Woodyard

JERSEY CITY, N.J. | The names are hardly as familiar as Peyton Manning and Richard Sherman. Yet, for all the megastars and All-Pros in this Super Bowl, there are guys like Jermaine Kearse and Paris Lenon.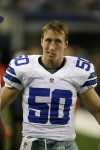 Butkus. Nitschke. Lambert. Singletary.

Poll
Loading…
Should Winfield hire a town marshal and deputies?