Wolfgang Puck

The notion of dinner and a movie can be taken to extravagant heights this weekend.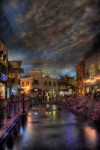 The neon signs burn just as brightly as they ever have. And never have the mega-resort casinos been more gargantuan, with bigger-than-life million-dollar stage shows and change-your-life million-dollar dreams. Yes, Las Vegas is still very much the famed "Entertainment Capital of the World." …
Poll
Loading…
Should Indiana switch to open primary elections?