Wolflake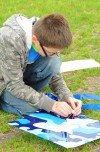 Zach Bane, 10, assembles a kite Saturday at the Wetland, Wind & Water Festival at Wolf Lake. Calm winds prevented the scheduled kite flying.
Michael Boos, left, executive director of the Association for the Wolf Lake Initiative, and volunteer Michael Brennan carry a canoe to the Wetlands, Wind & Water Festival on Saturday at Wolf Lake in Hammond. The festival continues Sunday on the Illinois side of the lake.

Poll
Loading…
Are you content to let the courts rule on the fate of same-sex marriage?