Workers Memorial Day

GARY | The dozens of names engraved on the waist-high, three-sided wall on the U.S. Steel Gary Complex Workers' Memorial date back to 1908 and are a stark reminder that not everyone who leaves home to work returns to loved ones.

PORTAGE | While Curtis Stout did contract work for steel mills in the 1990s, his father James often bragged to friends and co-workers that "my boy was keeping the plant from shutting down."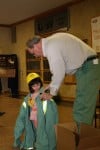 EAST CHICAGO | It was difficult to equip 3-year-old Adela DeHoyos with all the safety gear required for steelworkers.
Poll
Loading…
Should Lake County join the Shared Ethics Advisory Commission?