Yukon Cornelius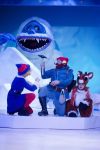 From left, Michael Saguto as Hermey the Elf, Michael Accardo as Yukon Cornelius and Cody J. Bolithon as Rudolph the Red-Nosed Reindeer star in "Rudolph the Red-nosed Reindeer: The Musical." The musical runs through Jan. 5 at the Broadway Playhouse at Water Tower Place, 175 E. Chesnut, in Chicago.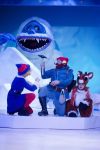 Michael Saguto is used to be busy this time of year helping audiences of all ages capture the stage spirit of the season.

Poll
Loading…
Will you be glad to see bus service restored in Hammond?