Search / Found (3)

In this Oct. 21, 2013 photo, attendees at a conference for dietitians pass by a booth sponsored by Coca Cola, in Houston. As Americans struggle to improve their eating habits, big food companies are educating the professionals who help guide people on what's healthy and what's not.

Lily Cherry, 8, checks off her list of household chores at her home in Kingwood, Texas. Lily makes her bed, prepares breakfast for herself and little brother, Aiden, 6, as well as does other household chores. Her mother, Andrea Cherry, has passed on her childhood practice of doing chores to …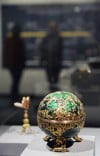 The 1902 Kelch Rocaille Egg sits on display at the Houston Museum of Natural Science as part of the largest private collection of items in the United States from the Russian artisan Peter Carl Faberge. The Kelch egg was created by Michael Perchin, one of Faberge's head workmasters.
Chambers of commerce across the region are teaming u…

$75 Cleaning and Sealing Services coupon for $10
Poll
Loading…
Should school boards restrict public comment at meetings?