Search / Found (3)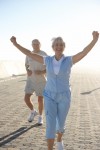 A provocative new analysis identifies the biggest risk factors for Alzheimer's disease - and concludes that more than half of all cases are potentially preventable through simple lifestyle changes, such as exercising, quitting smoking and losing weight.

A new university study shows that as we age, it gets tougher to successfully "multitask," or remembering to complete one task while distracted by another.
Odd hours, physical labor, blood, dirt and the occasional bite or kick. For generations, women were told veterinary medicine was too tough for them.
Poll
Loading…
Should Indiana switch to open primary elections?