Search / Found (3)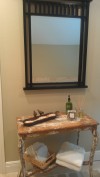 Contrast is key. It's better to be really different than a little off. That's why this distressed wood table pairs well with this sleek, black-framed mirror. Having the scale right is important, too.

Linda Lipofsky, of Orlando, stands in her almost finished kitchen with grandson, David Lipofsky, 4, and Tim Parsons, of Rebuilding Together. The non-profit helped renovate Lipofsky's home eight years after hurricanes destroyed it and a contractor ran off with the insurance money before finis…

Habitat Design Challenge: A team of decorators and former "This Old House" host Steve Thomas created this room using furniture and materials purchased from Habit for Humanity ReStores, all for under $1,000, less than a third what it would have cost retail. ReStore proceeds go to help build h…

Poll
Loading…
Has your family been affected by drug abuse?