The surprises start right at the top of the NCAA tournament bracket: Virginia is a No. 1 seed.

Had the IHSAA sent Lake Central's boys basketball team to the moon for Saturday's semistate, the Indians would've taken it. Gladly.

MICHIGAN CITY | Among all the rebounds Tyler Wideman has grabbed and will grab in his career, this is one he will never forget.
nwipreps.com
You've waited out the winter with the best of us. That baseball popping up and down in your hand is like a firecracker ready to pop.
Chicago Bears
NFL Scores and Stats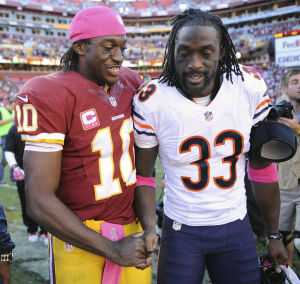 Charles Tillman said he wanted to retire as a Bear and the veteran cornerback may now get his wish.
NBA Scores and Stats
Miami's Dwyane Wade is on the cusp of doing something he's never done.
Valparaiso University
Notre Dame Football
Indiana Football
Purdue Football
The posturing and politicking is finished. The field has been chosen, the bracket has been set and the madness of March has finally arrived in college basketball.
NASCAR Standings/Stats
Formula One Standings/Stats
Indy Racing League Standings/Stats
BRISTOL, Tenn. (AP) — If two rain delays totaling more than five hours wasn't enough, the water-logged race at Bristol Motor Speedway had a battery fly out of a car and spread a toilet paper-looking substance all over the track.
Chicago Blackhawks
NHL Scores and Stats
WINNIPEG, Manitoba (AP) — Dustin Byfuglien had two goals and an assist and Blake Wheeler added four assists as the Winnipeg Jets cruised past the Dallas Stars 7-2 on Sunday night.
PGA Scores and Stats
LPGA Scores and Stats
PALM HARBOR, Fla. (AP) — John Senden never imagined it would take more than seven years to win again. Even more surprising is how he won the Valspar Championship.
HAMMOND | It was a rough return for Lance Surma on Friday night.
White Sox
Cubs
RailCats
MLB News
MILWAUKEE (AP) — Taken in by the Brewers, stray dog Hank is safe at his new home.
Men's Results and Stats
Women's Results and Stats
INDIAN WELLS, Calif. (AP) — Roger Federer defeated Alexandr Dolgopolov of Ukraine 6-3, 6-1 to reach the final of the BNP Paribas Open, a title the former top-ranked player has won four times.
Amateur
Professional
CUIABA, Brazil (AP) — Pedestrians tiptoe across a road scarred with deep puddles, piles of gravel and a detour sign. Black oily slush leaves no room for missteps or steering mistakes.

Most Popular
Poll
Loading…
Which team will win the Big Ten men's basketball tournament?