ST. LOUIS | Alexander Steen scored at 26 seconds of the third overtime to give the St. Louis Blues a 4-3 victory over the defending Stanley Cu…

HOBART | For five of the first six innings, host Hobart stood toe-to-toe with Wheeler and one of the best pitchers in Northwest Indiana.

ST. JOHN | Brenden Seren's official "zone" is somewhere between the second strike and the third.
Sports Exclusives
The higher seeds have darker colors.

Celebrate Bowman's trip to the Class 3A state finals.

Celebrate Lake Central's trip to the state finals.

Celebrate Marquette's trip to the state finals.

Check out this NCAA tournament bracket which feature…

Watch this video to get some tips on filling out you…

Check out this gallery featuring people from Northwe…

Watch this video to get an overview of how the teams…

Follow the Spartans as they try to repeat as Class 4…
nwipreps.com
ST. JOHN | When he wrestled as a freshman and sophomore, Chuck Alexa learned to shoulder blame rather than assign it.
Prep Sports Blog
VU Sports Blog
RailCats Blog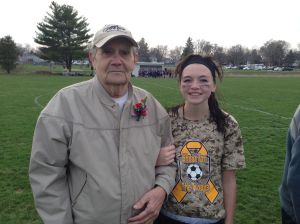 Eugene Goers walked with pride, cane in his right hand and his granddaughter Sarah Goers holding his left arm.
nwipreps.com
Crete-Monee's Brandon Hickey and Sarah Rizzo both threw no-hitters against Rich East on Thursday.
Chicago Bears
NFL Scores and Stats
MESA, Ariz. (AP) — Former NFL quarterback Donovan McNabb has been released from an Arizona jail after serving a one-day sentence for a DUI arrest late last year.
NBA Scores and Stats
MIAMI (AP) — It's hardly a certainty that the No. 1 seeds in the conference playoffs will reach the NBA Finals. It's happened that way only 11 times in the last 35 years.
NASCAR Standings/Stats
Formula One Standings/Stats
Indy Racing League Standings/Stats
SHANGHAI (AP) — Ferrari's new team principal, Marco Mattiacci, arrived at the Chinese Grand Prix on Friday wearing large sunglasses — on an overcast day.
Chicago Blackhawks
NHL Scores and Stats
DENVER (AP) — Paul Stastny sweated out the trade deadline, wondering if his big, expiring contract and Colorado's desire to beef up its blue line might lead to his departure from Denver.
PGA Scores and Stats
LPGA Scores and Stats
KUALA LUMPUR, Malaysia (AP) — Spain's Pablo Larrazabal has been forced to dive into a water hazard to avoid attacking hornets during his second round in the Malaysian Open on Friday.
Hoosier Fight Club is set to return to Valparaiso in June, and the main event could have some high stakes.
White Sox
Cubs
RailCats
MLB News
CHICAGO (AP) — Jon Lester pitched eight sharp innings and David Ross hit a tiebreaking RBI double in Boston's two-run ninth, leading the Red Sox to a 3-1 victory over the Chicago White Sox on Thursday night.
Men's Results and Stats
Women's Results and Stats
PARIS (AP) — Rafael Nadal's mastery of the Monte Carlo clay courts seems to be over.
Amateur
Professional
CHICAGO (AP) — The U.S. soccer team will train at Stanford University in Stanford, Calif., ahead of the World Cup.
Poll
Loading…
How will the Blackhawks do in the playoffs?