RSSNCAA Tournament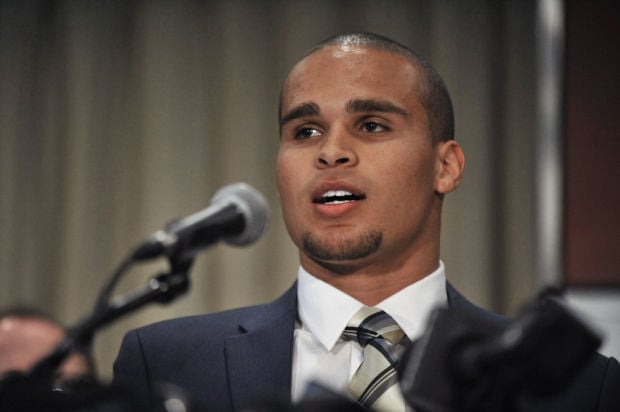 CHICAGO | Calling the NCAA a dictatorship, Northwestern's quarterback and the United Steelworkers announced plans Tuesday to form the first labor union for college athletes — the latest salvo in the bruising fight over whether amateur players should be paid.
Quarterback Kain Colter detailed the College Athletes Players Association at a news conference in Chicago, flanked by leaders of Steelworkers union that has agreed to pay legal bills for the effort. The NCAA and the Big Ten Conference both criticized the move and insisted that college athletes cannot be considered employees.
Colter said the NCAA dictates terms to its hundreds of member schools and tens of thousands of college athletes, leaving players with little or no say about financial compensation questions or how to improve their own safety. That college football generates hundreds of millions of dollars in revenue only bolstered the argument for a union, he said.
"How can they call this amateur athletics when our jerseys are sold in stores and the money we generate turns coaches and commissioners into multimillionaires?" Colter asked.
"The current model represents a dictatorship," added Colter, who just finished his senior year with the Wildcats. "We just want a seat at the table."
Colter said "nearly 100 percent" of his teammates backed the drive to unionize. But only he spoke publicly, saying the others wanted to keep a low profile.
CAPA's president, former UCLA football player Ramogi Huma, said a union would help ensure that scholarships, at minimum, cover all living expenses as well as tuition. Currently, he said, scholarship athletes come up thousands of dollars short each year. A union would also push for full medical coverage that could carry over past college.
While the effort to form a union among college athletes appears without precedent, there is recent a case that may help their cause. More than 600 graduate teaching and research assistants at New York University voted to form a union in December and to affiliate with the United Auto Workers. It was the first such union in the country to win recognition by a private university.
For now, the push is to unionize college athletes is focused only on private schools like Northwestern — though large public universities, which are subject to different sets of regulations, could follow, said Huma, who is also the head of the National College Players Association he founded in 2001 to lobby for the interests of college athletes.
"This will be the first domino," Huma said.
If the players succeed, a union could fundamentally change college sports, said Brian Rauch, a New York-based labor attorney. He said it could raise the prospect of strike by disgruntled players or lockouts by schools.
The NCAA has been under increasing scrutiny over its amateurism rules and is currently in court, fighting a class-action federal lawsuit filed by former players seeking a cut of the billions of dollars earned from live broadcasts and memorabilia sales, along with video games, and multiple lawsuits filed by players who say the organization failed to adequately protect them from debilitating head injuries.
NCAA President Mark Emmert and others have pushed for a $2,000-per-player stipend to help athletes defray some of their expenses, but critics say that isn't nearly enough and insults players who help bring in millions of dollars to their schools and conferences.
Last season, Colter and football players from Georgia and Georgia Tech had the letters APU — All Players United — written on their gear during games as a show of solidarity in an effort organized by the NCPA. At the time, the NCAA said it welcomed an "open and civil debate regarding all aspects of college athletics."
The NCAA issued a statement Tuesday making clear where it stands on the athletes' quest to form a union.
"Student-athletes are not employees," NCAA chief legal officer Donald Remy said. "We are confident the National Labor Relations Board will find in our favor, as there is no right to organize student-athletes."
He added: "This union-backed attempt to turn student-athletes into employees undermines the purpose of college: an education."
A statement from the Big Ten Conference echoed that, saying it "does not believe that full-time students participating in intercollegiate athletics are employees."
"That said, the Big Ten Conference has the utmost respect for both the legal system and the rights of students to pursue their beliefs through that system," the league said.
NLRB spokesman Gregory King confirmed that a petition by the players to form a union was filed at the board on Tuesday. King said the board would likely conduct a hearing within the next 10 days.
The key issue the board must resolve is whether the football players are employees as defined by federal labor law, said United Steelworkers official Tim Waters. If they're deemed employees, he said, they would have the legal right to organize.
"It's crystal clear that college football players are employees," he said, arguing most put in a 40-hour work week and create revenue, though not for themselves. He and the Steelworkers president, Leo W. Gerard, said the relationship between colleges and athletes amounted to "pay for play."
William B. Gould IV, a Stanford Law School professor emeritus and former NLRB chairman, predicted the board will rule for the players.
"The major obstacle is the Brown University decision of a decade ago," he said, referring to a 2004 decision under a George W. Bush-era board that removed the right of graduate students at private universities to unionize.
The NLRB said in 2012 that it will reconsider Brown, and Gould thinks it will be reversed.
"I think these guys are employees because their compensation is unrelated to education, unlike the teaching assistants in Brown University, and they are supervised not by faculty, but by coaches," Gould said. "Their program for which they receive compensation does not have a fundamentally component. So given the direction and control that supervisory authorities have over them, I think they are easily employees within the meaning of the act."
Rauch, the labor attorney, said he thought union-minded athletes will have a tough time demonstrating they are employees, and he thought their chances of prevailing were slim.
"They have high hurdles to jump," he said.
AP writers Ron Blum and Sam Hananel contributed to this report.
NEW YORK | The University of Notre Dame said running back George Atkinson III and reserve cornerback Jalen Brown would not play in today's Pinstripe Bowl because of a violation of team rules.
Coach Brian Kelly announced the suspensions in a statement three hours before the 11 a.m. CST nationally televised (ESPN) kickoff against Rutgers.
Atkinson is one of four tailbacks the Fighting Irish have used in a rotation this season.
NEW YORK | Jameis Winston smiled and laughed, posing for pictures with the other Heisman Trophy finalists and the big bronze statue that he is expected to take home.
And when it came time to answer questions from the media on Friday, the Florida State star quarterback did so confidently and without hesitation, even when his protection broke down.
Winston and four of the other six Heisman finalists — Texas A&M's Johnny Manziel, Auburn's Tre Mason, Boston College's Andre Williams and Northern Illinois' Jordan Lynch — met with reporters at a Midtown Manhattan hotel for short interviews. Alabama's AJ McCarron was in Baltimore accepting another award.
Florida State officials tried to limit questions that were even vaguely related to the rape accusation against Winston. The state attorney closed the investigation last week, saying there was not enough evidence to win a conviction.
The 19-year-old, who hasn't spoken directly about the details of the investigation, seemed unfazed by the questions that did come his way. He said he was fine remaining silent about the case.
"I knew I did nothing wrong. I knew I could respect the process and I'd eventually be vindicated. It was more about me being silent for my family because I didn't want to put my family in those situations.
"We had so much respect for Mr. (Tim) Jansen and everything going around and knew I did nothing wrong and everything would be OK."
Winston was the only Heisman finalist to show up with his lawyer, Jansen, who strolled in with the Florida State entourage for the media availability. Winston looked like a college student going to class: Black Florida State sweatsuit with garnet trim, and a matching backpack hanging off his shoulders.
Winston is the overwhelming favorite to win the Heisman after a sensational season, leading No. 1 Florida State to the national championship game against No. 2 Auburn.
But the celebration of his record-breaking performance has been muted by a year-old sexual assault allegation that went from dormant to active last month. The Tallahassee Police gave its finding to prosecutors, who took three weeks to investigate further and decide not to press charges.
Documents and reports, including the accuser's accounts to police, have been made public. They are less-than-flattering to Winston.
On Friday, the accuser's attorney, Patricia Carroll, asked Florida's attorney general to independently examine the rape investigation, claiming it was riddled with problems.
A few hours later, Winston was taking questions, mostly about football and the Heisman and being in New York city for the first time.
He was asked about dealing with "off-field issues" and two other questions that were indirectly related to the investigation.
"It was stressful, but you've got to look forward," he said.
Soon after, Florida State sports information director Kerwin Lonzo said: "He's only answering football questions and about the Heisman. Move on."
Winston then left the media session too soon. Each finalist was supposed to rotate through three tables of reporters. Winston came back for a second session and Florida State spokesman Elliott Finebloom apologized for the miscommunication.
Winston said he had yet to work on an acceptance speech, talked about how he and his mom took Mason out to dinner on Thursday night in Florida, when both were at the ESPN's college football awards show, and how he worked as a scout-team version of Lynch when the Seminoles were preparing to play Northern Illinois in the Orange Bowl last season.
Winston would be the second straight freshman to win the award after Manziel last year, and he'd be the third Florida State player — the first since Chris Weinke in 2000.
What can he do for an encore next year?
"Hopefully," he said, "I can do it over and over again."

Most Popular
Poll
Loading…
Which team will win the Big Ten men's basketball tournament?