RSSMike Nieto

Mike Nieto is The Times' Illinois Prep Coordinator. He has been with the paper a total eight years.
He was W.I.N. Magazine's 2001 National Wrestling Writer of the year and has won Indiana wrestling writer of the year twice, and was the South Suburban Wrestling Coaches' Newsman of the Year in 2008 and 2009.
He writes a Prep Beat column and always tries to give the readers their money's worth by giving insight into a game or event.
The Gary native is an Andrean High School and Marquette University graduate.
p>Reach Mike Nieto at (219) 933-3232 or mike.nieto@nwi.com
Latest News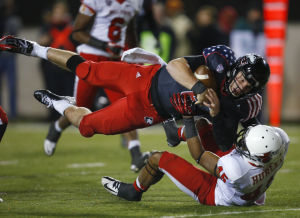 This is not a scene from Shakespeare's Hamlet.
Poll
Loading…
How will the Blackhawks do in the playoffs?