Prep Beat
STEVE HANLON: Could this be the year?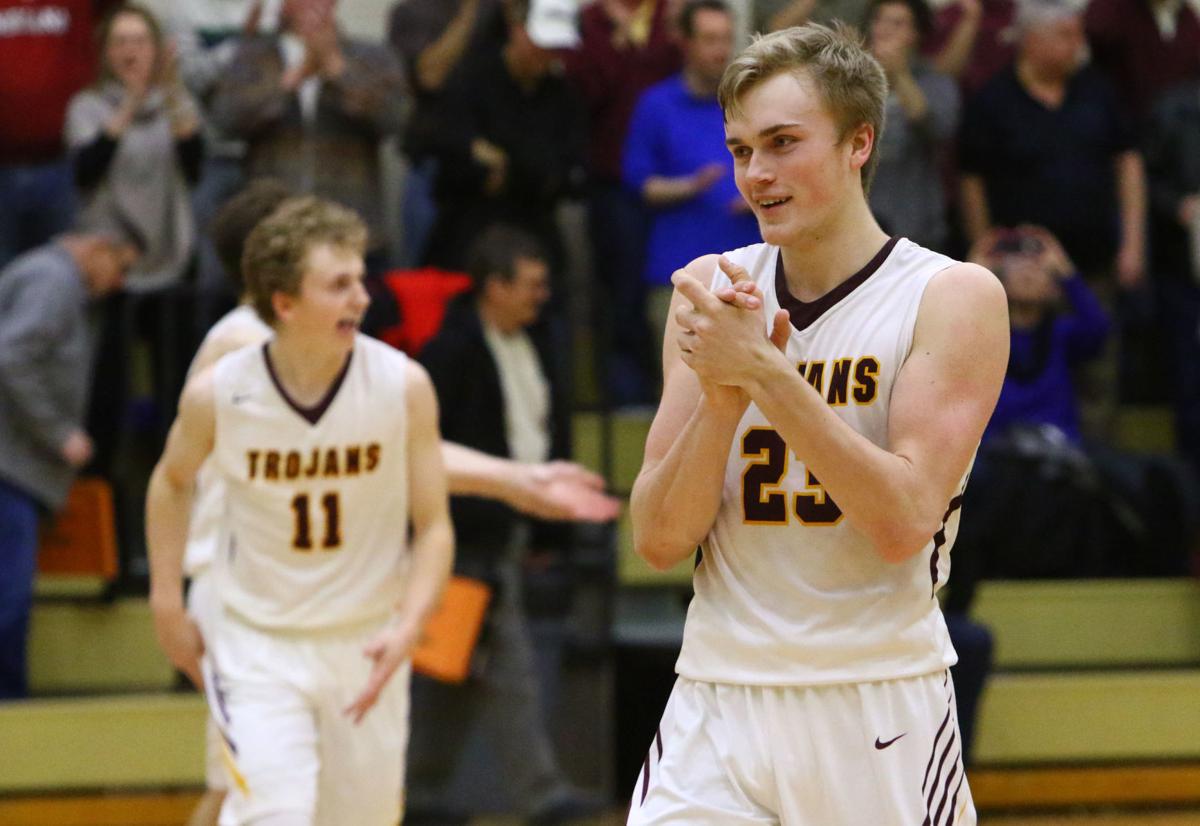 CHESTERTON — History can hang like a wet blanket on a cold winter's night.
It just depends where you're sitting on the world's stage. It really does.
The past gives belief and confidence to those who have won before. But it can be an aching shadow for those who have fallen short when it comes to championships.
On Friday night, inside a packed gymnasium at Chesterton High School, Trojans' sophomore guard Tyler Nelson raised his arms with 14.2 seconds left in the game against Valparaiso.
Seconds later, every fan on the maroon side of the gym stood up and started screaming. It was the exclamation mark for Chesterton's 71-61 win.
Just imagine. What at an advantage this "could be."
Chesterton will host the Class 4A Sectional 2 tournament, tipping off on Feb. 27.
"This is going to sound quote-ish," Chesterton coach Marc Urban said, "but all I'm thinking about is us getting ready for Portage."
If the Trojans can win that game they will secure a share of the Duneland Athletic Conference title, which last occurred in 2008.
But that isn't the drought most in Chesterton are thinking about now. The Trojans haven't won a sectional championship since 1987, when Indiana University and movie star Matt Nover was here.
That's been awhile. A long time for sure.
Valparaiso has won 51 sectionals, the Vikings' last coming in 2011. That's a long stretch for them, but something the Trojans would love to have.
"We have a great basketball community and town," Urban continued. "They told me when I came here if we got it going, the people would come out. I think it's great we get to host this year."
The IHSAA draw comes out on Sunday, with Chesterton, Merrillville and Valparaiso all watching closely which way the ping pong balls will drop. These are the three Sectional 2 favorites.
Chesterton was pounded at Merrillville 76-56 on Jan. 6. It was a one-sided blowout. But since that game the Trojans have won 10 straight. Convincingly.
Here is why I think Chesterton is the early favorite: My ears are still ringing from Friday night's crowd. It will be even more Megadeth-like in a week and a half.
And in a winter in which the Region has been handcuffed by a lack of size all around, the play of 6-foot-6 Austin Peterson in the post has been impressive. Add in 6-4 Jake Wadding, who is deadly in the paint, this is the best two-man game in the area.
If you don't help out, they will score at will. When you do help out, their shooters — Nelson, Kolton Cardenas and Ky Palombizio — will hang nets with ease. Especially the nets they shoot at every day in practice.
Palombizio at first said this senior group hasn't heard anything about the sectional losing streak that's lasted 30-plus years. But when asked again he admitted it does come up around town some.
"It's huge," Palombizio said about hosting the sectional. "We love coming out here and hearing our crowd go crazy. It does give us an advantage."
Then, he spoke about his team continuing to work and get better, which I am sure they will do.
This is a year in which the entire Region is filled with good teams, but almost all of them missing a piece here or there. Chesterton could be the closest to having a full deck, as they proved in this dramatic win.
I believe this is the year that a new photo is put up on the wall, and this one will be in color.
"It could be," Palombizio said, knowing a lot of work and good fortune must happen before these guys climb up any ladder.