Prep Beat
STEVE HANLON: Playing for someone dear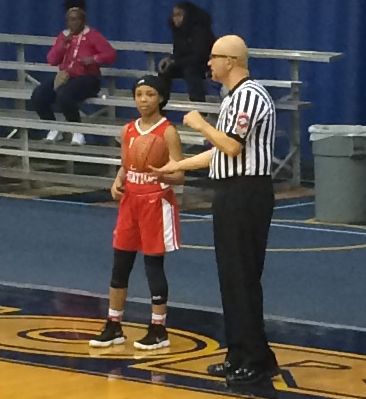 HAMMOND — There is a tradition in the IHSAA girls basketball state tournament that's lasted the 43 years of this great event.
Win, lose or draw — young ladies returning home and sharing all the memories with their loved ones.
It's too bad that Lake Station freshman Taylor Austin didn't have this chance after Wednesday night's game against River Forest in the Class 2A Bishop Noll Sectional.
Her grandfather died in September, taking away the time-honored tradition.
"Taylor has dedicated every game to him," said Keisha Austin, Taylor's mother. "They always talked about the game. It was something the two of them shared."
The 5-foot-2 Austin has been among the Region's leaders in scoring. The ninth-grader averaged 25.6 points per game, which is a remarkable number for someone so young.
She certainly struggled in her team's 51-40 loss to the Ingots. The Eagles got Doug Nelson-ed in this game.
Austin scored a bunch in Lake Station's 65-47 win in December, where the Ingots played man-to-man, allowing No. 10 to score 30.
On this night, it was a trapping zone that made Austin work tirelessly for every shot. She finished with 20 in the loss.
"He was another father figure in my life," Austin said of her grandfather, Grady Moore. A long pause with tears and some deep breaths broke of her sentences. "He played a big role in my life. If he would've been here (Wednesday) I know I would've played that much harder.
"And I know he would've been proud of me."
When Austin was in sixth grade playing in an AAU tournament, she received a letter from Marquette University. They thought she was in high school. She played varsity at Portage Christian when she was in sixth grade, too.
Playing up is always a good thing if you can handle it.
"She gave us a point guard," Lake Station coach Kristy Hite said. "That's what we needed. Her game IQ is so high and she's a great leader for all the other kids in the program. A lot of the leadership on this team came from the younger kids who play basketball a lot more.
"We're hoping to take what we've learned this year and move forward."
Austin had surgery on a meniscus tear in 2016 and the ache was there against a very good River Forest team defense.
"My knee was the problem tonight," Austin said. "On all those wide open layups I couldn't go up off my right foot. It hurt too bad."
This young lady is very talented. But there is work to do.
Shooting at a higher percentage from the field will take her game to the next level. She needs to develop a mid-range jumper and knock down the 3s at a higher pace, too.
Her quickness and defense is very good.
For a kid who spends a lot of time in the gym, these areas of concern will surely be worked on this morning.
"I want to win sectionals and conference before I leave here," Austin said. "I want to leave a legacy. I want Lake Station to be one of the best programs around."
In one year you and your team have come a long way. Keep up the hard work.
And for all the players competing in the tournament, remember your loved ones. Thank them for sharing the game and the interaction with you. In many ways these are the best days of your lives.
But for Austin, and others who are missing someone dear, remember all the great conversations about the games. That will make you smile.