RSSBowling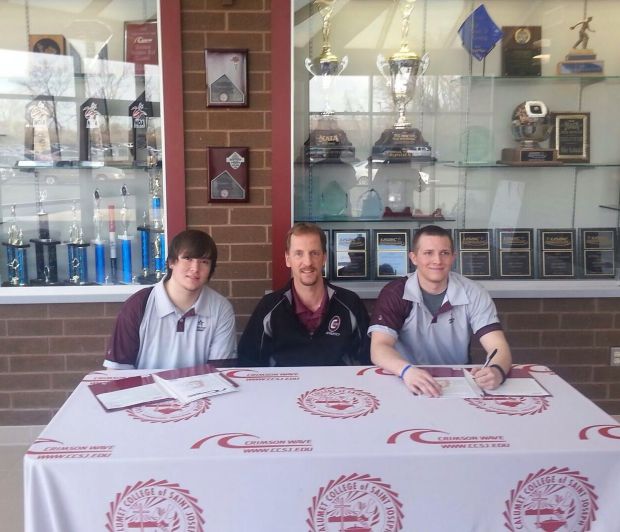 HAMMOND | They've bowled together on the same youth league team at Plaza Lanes in Highland for a couple years. They've bowled against each other in high school competition for the last four years.
Next fall Bobby Kammer and Tyler Hansen will be together bowling for a perennial national power in the college ranks.
And it will be just up the road.
Kammer and Hansen recently made it official, signing letters of intent to continue bowling for Calumet College of St. Joseph. It's another coup for CCSJ coach Mike Kubacki by getting two of the top local bowlers to stay close to home.
"They come from a bowling pedigree and they've had good high school careers," Kubacki said. "I try to put together a team of half local guys and half outside the area. It doesn't always work out that way and depends on how good the local talent is."
These two fit into the "pretty good" category, especially after their senior seasons.
Kammer, a Merrillville senior who transferred from Hobart High School last summer, posted the high Northwest Indiana average with 224 during the regular season. Among his highlights was taking first in the NWI Holiday Classic with an 801 series.
Hansen, a Munster senior, was second in average in the area with 220 and won a sectional title.
And as Kubacki said, both come from talented bowling genes.
Their dads — Bob Kammer Jr. and Scott Hansen — are two of the top league and tournament bowlers in the region with numerous titles and myriad award scores. Both men have been friendly competitors of Kubacki on the lanes for more than 20 years.
"It's about me doing what I love and getting an education," Tyler Hansen said. "I want to expand my bowling experience in a good program."
That's an understatement. Calumet College has reached the Intercollegiate Team Championships final 16 all eight years the program has existed, including a runner-up finish in 2010.
"Everything is really coming together right now and I definitely wanted to bowl in college," Bobby Kammer said. "It's one of the best programs (in the country) and I've known Kubacki for a while. The team is filled with a bunch of good bowlers."
And now two more will be added to the mix.

HIGHLAND | Though the follow-through has no impact on a ball already released, the late, great Carmen Salvino often claimed, "If you do everything correctly, it's impossible not to have a good follow-through."
Jackie Rhoda has no idea who Salvino is. Neither is she familiar with some other Pro Bowlers Association and United States Bowling Congress hall of famers such as Walter Ray Williams Jr., Mark Roth and Earl Anthony.
Heck, even "The Big Lebowski" may be beyond her time.
"If they're not bowling on TV today, I probably don't know them," said Rhoda, whose favorite pro bowler is 2012-2013 PBA Bowler of the Year Jason Belmonte.
Rhoda may not know the names of all the legends, but has embraced their "approach" to the game. One is making sure her follow-through is polished to perfection.
"It has made a big difference," the right-handed Rhoda said of an adjustment she learned over the summer at a bowling camp. "Before, when I would slide, my right leg would end up directly behind my (sliding) left leg. Instead of having my right foot at six o'clock to my left, they told me to have it more at nine o'clock."
Rhoda credits that, as well as some other adjustments, for her average breaching 200 for the first time in her 11-year career.
On Feb. 21, the Portage junior was named "Female Bowler of the Year" by Indiana High School Bowling.
"I knew I was in the running going into the state championships," said Rhoda, who qualified as an individual and placed seventh at state.
Rhoda was the semi-state and sectional individual champion, and placed seventh at regionals.
"They took into account how well you bowled during the regular season, and how well you placed during the post-season," said Rhoda, who was named to the IHSB All-State First Team, and posted personal-best scores in series (757) and game (298) this past season.
Whenever Rhoda enters a bowling "house," she brings with her a substantial arsenal.
"I have five balls, and I usually use all of them," said Rhoda, whose No. 1 choice is a Storm "IQ".
Though Rhoda may switch balls repeatedly during a typical series, her mark is always the same.
"The second arrow," she said. "I'll move right or left depending on the conditions, but I stay locked on the second arrow."
To note, Rhoda is not entirely unfamiliar with PBA champions of yesteryear.
Her grandfather, Gene Rhoda, won four pro tournaments during the mid-1960s and placed runner-up in two others. One of the guys he finished second to was PBA and USBC hall of famer Glenn Allison, who has the distinction of bowling the first 900 series in sanctioned league play only to have the USBC (then named the American Bowling Congress) delegitimize it due to alleged improper lane conditions.
"I never got a chance to know him that well before he died," Rhoda said of her grandfather. "I did learn a lot from my father and mother, who are both excellent bowlers."
With a 205 average in high school play, Rhoda has a little ways to go before catching her mother, Gina Pritchett, who is one of the finest rollers in the region with a 222 league average.
Fan Poll
Loading…
Which school has the area's best baseball team?