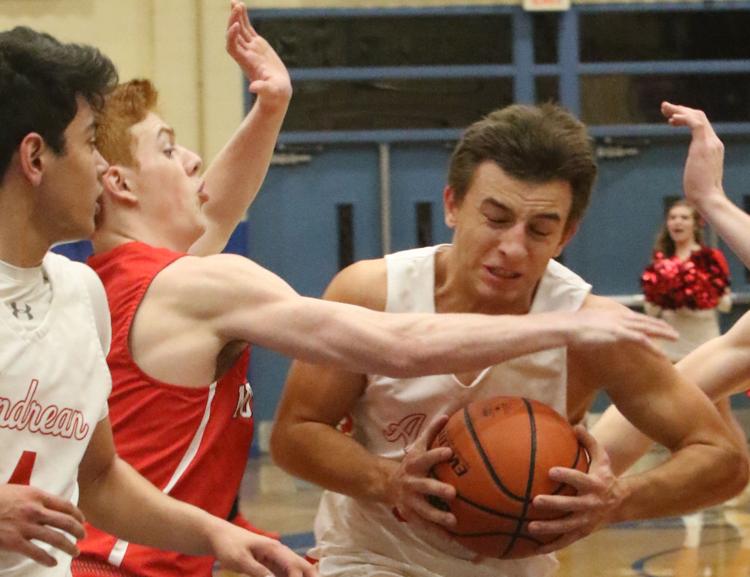 HIGHLAND — Kids these days, they grow up so fast.
Andrean's Kyle Ross is a freshman who plays like a grown man. The 59ers forward calmly drilled a 3 in the final seconds of regulation Thursday to force overtime against Munster, and his team scored all eight points of the overtime to capture a 65-57 victory over Munster in the semifinals of the Highland Holiday Hoopfest.
"My coaches and teammates tell me, every day, you're going to be playing older people, treat them like they're younger, go at them," Ross said. "That's what the weight room does. Don't back down."
Andrean overcame a nine-point deficit in the last four minutes, aided by Munster's turnovers and missed free throws.
"Coach (Brad Stangel) says, 'don't try to get it back in one play,'" Ross said. "Dig in on defense, try to make them feel uncomfortable. If we run our plays, move the ball around, we're going to get the open shots in the right spots."
The 59ers trailed 56-51 in the final minute before another freshman, Nick Flesher, drilled a trey. Munster missed two of three free throws to leave the door open for Andrean and Ross busted it down, popping off a pick to crush a 21-footer from the key.
"The play's called 'Slice,'" Ross said. "Coach said, you've got the hot hand, set the screen, slide out and if you see an opening, let it go. It felt good coming out."