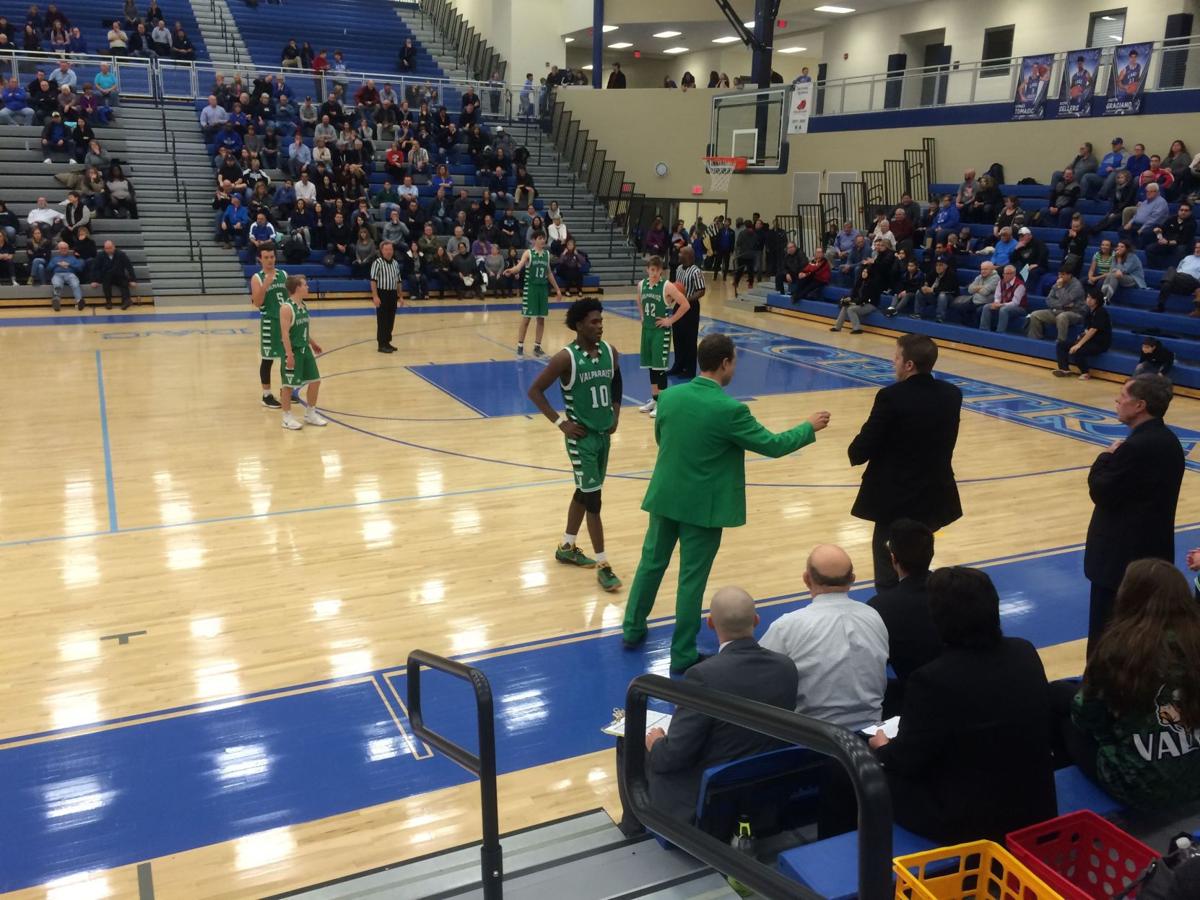 ST. JOHN — I just got done watching the best basketball player in the Region.
And it wasn't even the best game that Valparaiso junior Branden Newman played. Hardly.
In the last minutes of regulation he missed two free throws, then was called for goaltending that forced an overtime.
Lake Central has one of the best student sections around. But let me give you guys a tip. Don't chant "o-ver-ra-ted" to the best player on the floor. It could backfire.
"Yeah, I heard it," Newman said. "It motivated me."
The 6-foot-4 guard scored eight points in the extra session to help The Times No. 1 Vikings to a 69-62 win over No. 10 Lake Central.
After the game a proud Indians' coach, Dave Milausnic, congratulated Newman in the hallway and said he loved watching him play, except against the Indians.
Newman finished with 30 points, 16 rebounds and four assists.
"He didn't have his best game shooting," Valpo coach Barak Coolman said. "He missed some bunnies early that he normally makes. But he took over the overtime."
That's what elite players do. I saw the young man with five Division I offers and a slew more coming gather his team before the final four minutes of play, encourage them and say it's time for us to take it to another level.
Brandon's mother, Charmagne Newman, looked on from the bleachers. The joy her son brings her can't be quantified. She is from a basketball family from Gary. She graduated from Roosevelt in 1984. Her father, Henry Garner, loved basketball.
Her brother, Dante' Garner, played at Arizona State. Her nephew, Jarvis Garner, is playing professionally in France.
Brandon comes from very good stock. Which is why his father, Ronald Newman, put a Little Tikes hoop in his Chicago studio apartment when Brandon was two. Then, he would go out and walk the beat in the Windy City streets.
"Yeah, I remember the Little Tikes hoop," Brandon said. "I played on that every day. All the time."
He moved with his mother to Portage when he was three. Then, on to Valpo at the age of 10. Most of his memories are in the Hoosier state.
"My memories are mostly from Indiana," Brandon said. "But I know I have some roots in Chicago, too."
This week Valparaiso University offered the talented young player who hasn't even scratched the surface, his high school coach says. The other D-I suitors are Fort Wayne, IUPUI, Toledo and North Dakota State.
Not only is this young man talented on the hardwood, his mother speaks of what a kind kid he is when the gym lights aren't shining with a Friday night spotlight.
In middle school at Thomas Jefferson, Newman was wearing a new pair of Nikes that his parents had gotten him, but there was a student at the school who needed a pair of shoes.
So he asked his mom if he could give the new kicks to the youngster. Mom said yes, and he uplifted someone in need.
"The boy put the shoes on and wore them home," Charmagne said. "He came home and said, 'Mom, it felt so good to give something to someone else.' Whenever I'm down, he always tries to lift my spirits."
Brandon got his mother a gift for a Christmas: a book. It was about young animals telling her how much she meant to them. Charmagne cried when she read the heart-felt diction.
"Sometimes we don't always get along," she said. "But he bought me that book so I would know how much I mean to him. That meant a lot."
VU has wished for a long time to get more Region players to become Crusaders. That would help more fans from Lake County to start calling Valpo "their team."
Merrillville's Mileek McMillan is doing great things inside the ARC as a freshman this winter. Surely a few more would bring more smiles to the staff.
"I've been there so many times it's almost been too much," Newman said with a smile about the hours he's spent inside VU's gym through the years. "It meant a lot when they offered me. It felt good. I don't know where my recruiting will take me, but it's nice to know I can always play at home if the other things don't work out."
Whichever team gets Valpo High's No. 10 to commit, two things are certain: it'll be getting a very good basketball player and a very nice young man.