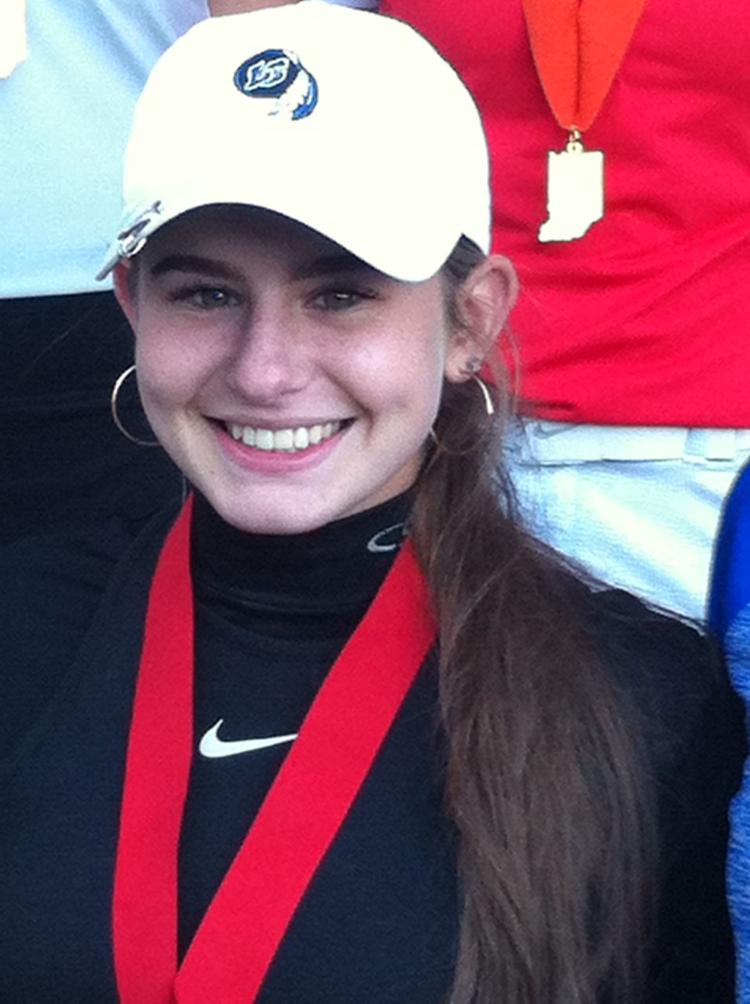 CARMEL — Lake Central's Alexis Miestowski walked off the 18th green at the state finals on Saturday at Prairie View Golf Club in Carmel, just a couple of strokes shy of where she wanted to be in her final high school match.
Miestowski finished second with a two-day total of 146 just one stroke behind state champion Kayla Benge, of Plainfield. Miestowski was disappointed but kept her performance in perspective.
"I didn't leave any shots out there," she said. "I felt solid, but hats off to Kayla, she played really well (Saturday)."
Two years ago Miestowski won the individual title, and she finished third last year.
"I was pretty sad coming off 18, but I'm really excited that I'm playing at IU next year and I get to continue my golf career," she said. "It sucks getting second, but it would've just been icing on the cake. I've won it once. I was just trying to come here and have fun."
Miestowski shot an even-par 72 in Friday's first round and had a plan for Saturday.
"I felt solid on the front," she said. "I didn't have too many birdies, but on the back I really started trying to be more aggressive and started pushing. That's just what you have to do in those situations. It was risk-reward, and I took the risk and wasn't always rewarded obviously.
"So I was going to either make a birdie or a bogey on a few of the holes. I was aggressive, it didn't going my way and I made a few bogeys."
Miestowski bogeyed holes 13 and 14 to fall three strokes back, but she recovered nicely with a birdie on No. 15 to get within two. Both she and Benge bogeyed No. 16 before Miestowski shot par on No. 17 and Benge bogeyed to get her within one stroke.
Both golfers parred the final hole.
"A couple tee shots got away," L.C. coach Chris Rossiano said. "It happens. That's golf."
Rossiano said coming in they knew even-par would likely win the tournament.
"You don't have to be super-aggressive or super-conservative, you just have to play the holes smart," he said. "She made some putts, and Kayla made an incredible putt on No. 8 that could've been a two-shot swing. She made great putts and didn't get into too much trouble."
Rossiano said he was really proud of how Miestowski played.
"She played great and there's nothing to be ashamed of taking second place at a tournament like this," he said. "... It's pretty special."
Chesterton senior Elyse Stasil was tied for first overall with Zionsville's Abby Thielbar after the first round with a 70. She shot an 84 in the second round to finish tied for seventh overall.
Stasil, who will play next year at the University of Indianapolis, fought back tears as she hugged her parents and coach.
"It's been a great year," she said. "I had a lot of fun with the girls on the team. I got some wins at invites. I played very well the entire season, so it was nice."
The ball didn't bounce her way on Saturday.
"A couple times, I made some good swings, and I just really couldn't get the breaks I wanted. I'd be left in a divot or the ball would just bounce off the back of the green, but it happens. It's just golf."
Chesterton coach Jordan Nelson said she had an unbelievable amount of bad breaks.
"Unfortunately, that's golf," he said. " … She battled well. She had a great season, great four years. She's leaving the program in better shape than she found it."
Marquette's Teresa Dorado shot an 84 to finish with a two-day total of 175 for 53rd.
Valparaiso shot a team score of 349 on Saturday to finish with a two-day 711, which was good for 10th place. Zionsville won with a 620. Coach Bill Miller said it was a good turnaround.
"I proud of the girls for coming back (Saturday)," he said. "After a tough round (Friday), they could've come back and hung their heads a little bit. We sat at 12th, and our goal was to come back, and the nerves are hopefully gone day two, and try and get a top 10. And that's exactly where we finished."
Miller said sophomore Wynne Aldrich's rounds of 79 and 77 were big, which was tied for 11th overall at 156.
"Throughout the year we've played in some big tournaments, and she's put up some fantastic scores," he said. "That just proves she's one of the top 15 to 20 players in the state. Excellent first showing for her at state."