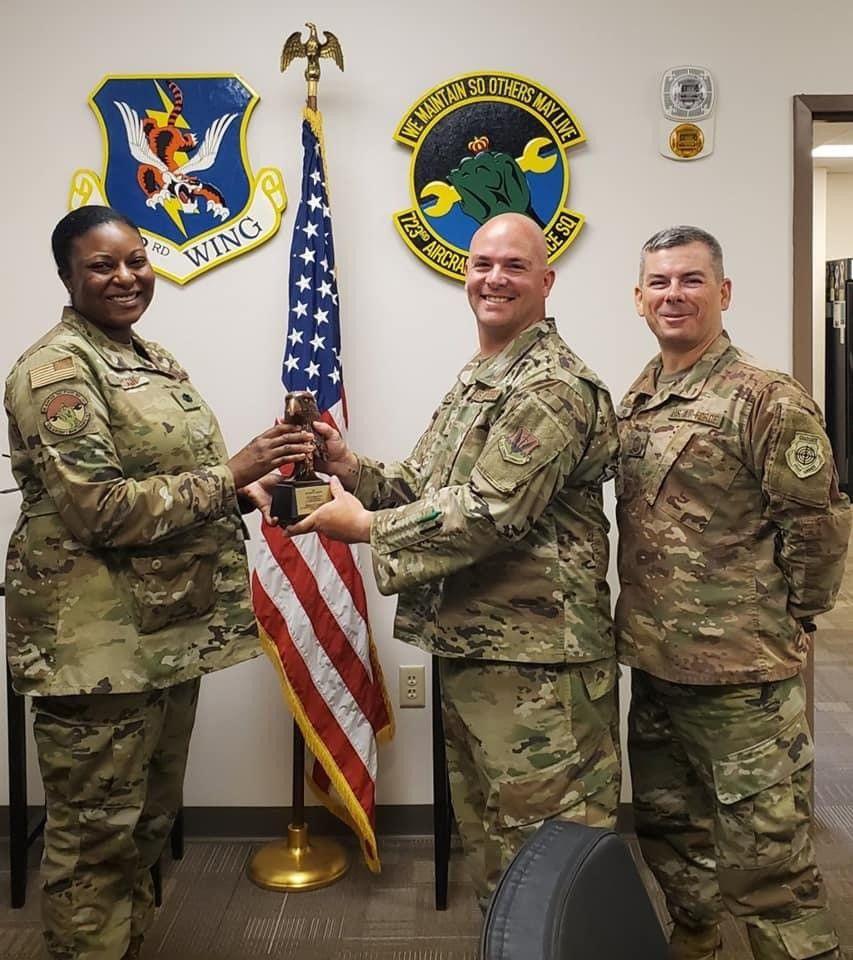 Congratulations to U.S. Air Force MSgt Scott Keithley, (Lowell High School 2003) on receiving Air Combat Command's 2019 Leo Marquez (Senior Non-Commissioned Officer Category) Award.
The award, created in honor of retired General Marquez, recognizes outstanding Airmen who work in aircraft maintenance career fields, who exemplify excellence as a leader; in addition to the highest degree of sustained job performance, job efficiency and results,
MSgt Keithley, who is stationed at Moody Air Force Base, in Valdosta Ga., was awarded this award at the Wing level in March at a Maintenance Professional Of the Year ceremony at which his parents were in attendance. It was then announced that he would be competing at the next level, the 9th Air Force. In April, MSgt Keithley was notified that he won at the 9th AF and would continue on to the Major Command. In June, he learned he had been selected as the winner for the entire ACC MAJCOM when his superior surprised him at work with the presentation of the large bronze eagle trophy.
MSgt Keithey, as a HH-60G Pave Hawk helicopter maintenance specialist with the Combat Search and Rescue division, has been deployed 10 times to volatile regions. Currently, he is involved with designing, implementing across bases, and overseeing the training for the Pave Hawk replacement - The new HH-60W Jolly Green II helicopter.
In February, Msgt Keithley represented MAFB and the 23rd Wing at the Air Warfare Symposium where he met the Secretary of the Air Force Barbara Barrett, Chief of Staff of the Air Force Gen. Goldfein, Command Chief MSgt of the Air Force Kaleith Wright, and Commander, ACC Gen. James Holmes. General Goldfein coined MSgt Keithley at the conference where Elon Musk was the keynote speaker.
MSgt Keithley has served 16 years active duty with the Air Force, 13 of them with CSAR. He is married to Elizabeth, who is the Training and Curriculum Specialist at the MAFB Child Development Center (CDC). They have two sons, Aiden (11) and Hudson (3), and a daughter on the way. He is the son of Tom and Holly Keithley of Lowell.