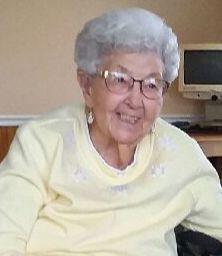 Lorraine celebrated her 99th birthday Saturday, Nov. 9 at Bullpen Restaurant in Schererville.
Sixty friends and family celebrate this momentous occasion.
Lorraine grew up in Calumet City, and was one of the first families attending St. Victor parish. Lorraine lived 93 of her 99 years of life in Calumet City. She currently resides at the Great Lakes Nursing Home in Dyer.
Lorraine has four children: Charmaine (Raymond) Kulczyk, of Grand Rapids, Michigan; Karen (Stephan) Emrick, of Dyer; Leonard, of Calumet City; and Denise (Daniel) Wachowski, of Hobart. Lorraine has been blessed with eight grandchildren, 10 great-grandchildren and three great-great-grandchildren.
Family came from Baltimore, Maryland, Atlanta, Georgia, and Grand Rapids, Michigan, and Kalamazoo, Michigan, to be a part of this special celebration.
Lorraine retired from St. Margaret's Hospital in Hammond as a CNA and continued for 20-plus years after retiring doing companion care and watching her grandchildren and nieces and nephews.
Lorraine's mantra and legacy is "love of family and God." She sings and dances — now chair dances — to "We Are Family" and "Celebration." Lorraine has always been young in spirit and has always embraced those she meets as her extended family.
A life well lived and full of love.
Happy 99th birthday, Lorraine!