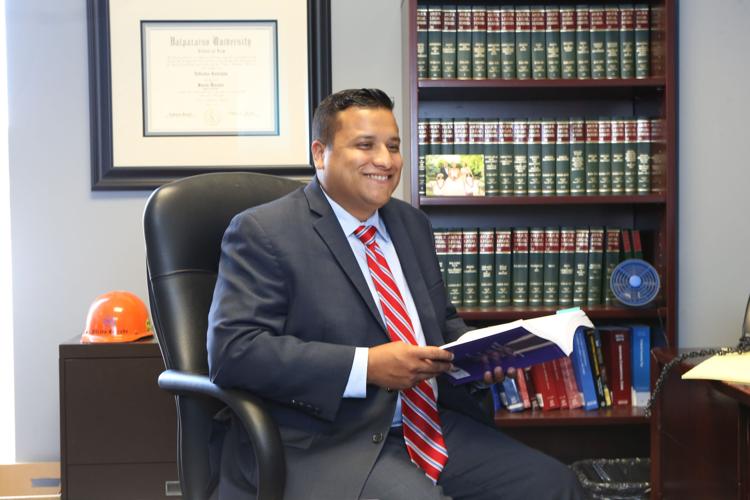 "A quickly moving, ever-changing target" is how Alfredo Estrada describes the current state of affairs of immigration policy.  
"The Region is one of the more welcoming areas in the country for immigrants," Estrada said. "We are based on immigrants, we have an influx in cities like East Chicago, Gary, Hammond. They're all built on immigrants, but throughout time and assimilation, we forget the stories our forefathers have in coming here."
Estrada is an associate attorney at Burke Costanza & Carberry LLP, which has offices in Merrillville and Valparaiso. He's co-chair of the firm's immigration practice group and serves as a member of its litigation and business practice groups.
Additionally, Estrada represents municipal and government entities, as well as civil litigation in state and federal courts. This year he was named a Times Media Co. 20 Under 40 award winner. 
He has clients from Mexico, Latin America, England, the Caribbean and several other countries across the globe, including some as young as 10 years old. Estrada hears stories from human trafficking survivors, victims of gang violence, dangerous journeys on freight trains and of unimaginable poverty. 
"Some of the stories you hear from people fearing persecution back in their home country is just terrible," Estrada said. "If people really knew their stories that they're escaping from, it's truly heart breaking."
Supportive family critical to life's work
Estrada helps documented and undocumented immigrants navigate federal laws, which especially now are in constant transformation. 
However, before he was an attorney, Estrada worked as a steelworker born to an immigrant family. 
In his early 20s, he toiled as a craneman on the tin line at U.S. Steel, moving tin coils that each weighed about 42,000 pounds. However, Estrada wanted to ensure future stability for his young family, and began taking college courses. 
"I knew I had to do something different with my life," Estrada said. "I felt I wanted to do more. At the time, I was working 12-hour shifts, six days a week, 6 a.m. to 6 p.m., then coming home to get my class work done. I had Monday's off and I scheduled as many classes as I could on that day. It was a struggle … My wife is really supportive. When you go from steelworker to lawyer, you need a supportive family to be able do that."
After completing his political science degree from Purdue University Northwest in 2011, Estrada had grown an interest in law with his professors' encouragement. He continued his education at Valparaiso University Law School and in 2015 graduated magna cum laude. 
Before he graduated, Estrada began at Burke Costanza & Carberry LLC as a clerk. After he earned his law degree he continued as part of the team and began working with a subject that's interested him since youth: immigration. 
Estrada's father is an immigrant from Mexico and his mother comes from a first-generation immigrant family. 
"There is definitely a void within the Region for people to speak up for immigrants, to give them a voice, " Estrada said. "I see this as an opportunity to do that."
Jose Bustos is manager of Catholic Charities in the Gary Diocese's organization the Immigrant Support and Assistance Center. and has known Estrada for a 20 years. He said the two work as a team to find ways of giving hope to immigrants in the Region. 
"By talking to as many as possible and reassuring them that not all is lost," Bustos said. "By educating them about their rights under the U.S. Constitution and how to prepare for worst case scenarios. We tell them that as a community we have gone through these types of circumstances before and have come through with our heads held high, ready to continue the struggle."
Bustos and Estrada have partnered in various projects involving immigration, such as the "Welcoming City Initiative," which is an ordinance that is designed to provide certain protections for non-citizen residents.
Covering a variety of issues surrounding immigration, the ordinance prohibits requesting or investigating a person's legal status unless required by a court order. It also states that city resources cannot be commandeered to enforce federal immigration law.
This was a project adopted by Estrada, who was introduced to the idea while attending an American Immigration Lawyers Association conference last spring. 
Gary and East Chicago have both adopted the welcoming city ordinance this year. Estrada said Michigan City and Valparaiso are considering it. 
"With the region's history of immigrants, there's no better place that could have this. Most cities I have approached understand that involving residents in the community is a good thing regardless of legal status," Estrada said. "It is a struggle for immigrants -- documented and undocumented -- they have a fear of being present, a fear of existing in normal day life that you and me take for granted. That was the whole point of the welcoming city ordinance."
Many of President Donald Trump's executive orders regarding immigration have troubled Estrada, and thrown wild cards into his practice, such as Trump's executive order that takes away priority removal for undocumented immigrants. 
"A guy who has an egregious criminal history is removable," Estrada said. "But now, so is grandma. Or a kid who came to America when they were five months old and who is now 19, is now on the same level as the guy with the egregious criminal history."
In February, Estrada was invited to a panel at Purdue University Northwest to give information and discuss Trump's immigration policies. This month, he is traveling to Dilley, Texas, home of the nation's largest immigration detention center, to volunteer pro bono services to undocumented immigrants seeking asylum. 
Estrada said the "current rhetoric and stereotype doesn't help either," when it comes to political party or individual attitudes toward immigration.
"But, that's just distraction," Estrada said. "To get things done, we just ignore distraction. The issue with talking with some people is that I can't argue bumper sticker politics, I can't confront that."
That's why he decided to follow his own route and go through with the welcoming city ordinance, and practicing immigration law and devoting his time helping the community.
"There's definitely a dichotomy here with people who are for it and people who are against it," Estrada said. "My theory is to outwork those who are opposite to what I believe in. I'm really looking just to get things done."