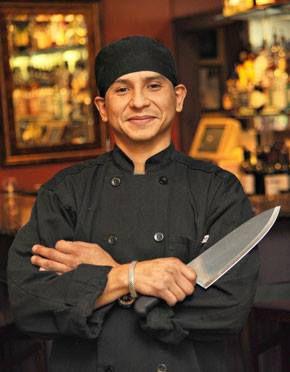 Alfredo Anguiano - Lucrezia Cafe
"I learned to cook at the culinary school of hard knocks," says Alfredo Anguiano.  "As a teenager, I started as a dishwasher, then prep cook, and worked my way up the line to learn the craft. I like cooking simple and flavorful foods as they do in Italy. I always stress quality and consistency to my staff.  It has to taste the same way each and every time, so for example the lamb shank, one of our signatures dishes, tastes the same way it did 20 years ago."  
Anguiano has been the head chef at Lucezia Cafe's flagship location in Chesterton for almost 20 years since it opened, says owner Nada Karas.
 "He has trained every cook that has ever worked in our kitchens," she continues. "It's hard to explain to family and friends the way in which a well-run kitchen actually operates.  There are so many moving parts, and it's a beautiful thing to see it all in motion on a crazy, busy night. We are fortunate and grateful that he is a member of our team.  He does a great job conducting the orchestra." 
Anguiano says that though he's honored to be voted Best Chef, it is truly a team award.
"No one person can tackle the volume and scope of what we do," he says.  "Without the passion and hard work of my team, I could not have won this award.  Thank you for recognizing our hard work."
---
SECOND PLACE
Andrew Easterday
Little Italy
---
THIRD PLACE
Pat Niebling
3 Floyds