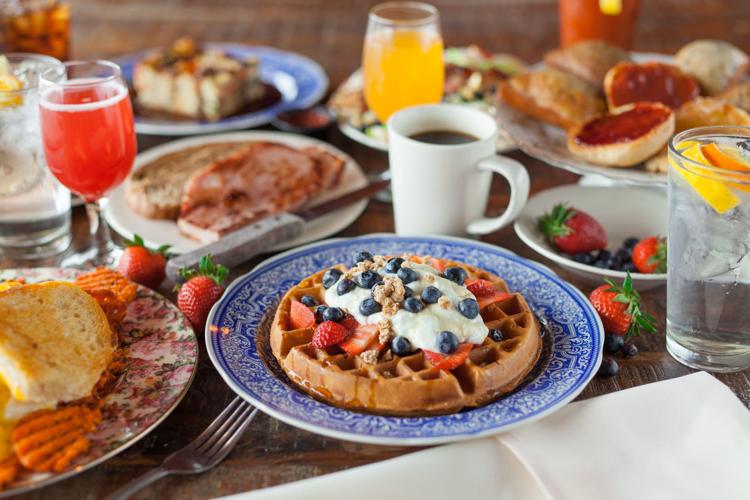 Toast and Jam
If you can't decide between breakfast and lunch, Sam Cappas, owner of Toast and Jam recommends the best of both worlds — brunch. Toast and Jam, he said, serves brunch all day and uses many of the same cooking methods his grandmother used. "I like to call it 'Grandma's Kitchen,' " Cappas explained. "We try to do as much homemade as we can."
While the restaurant serves time-honored dishes such as biscuits and gravy, Cappas said that because the location is off the beaten path, it's  added a lot of unique items. A customer favorite is the Poblano Casserole, with chicken, poblano peppers, cheese and other ingredients.
Some customers opt for a more "lunch-centric" meal at brunch. "Our crowd really likes our burgers, which are all 100 percent Angus prime beef," Cappas noted. Popular burgers include the Crosstown (a classic with American cheese, bacon, lettuce, tomato and pickle), the Rodeo (jalapeno cream cheese, pepper jack cheese and onion string toppings) and the Carolina (barbecue sauce, bacon, cheese and coleslaw topping).
Cappas refers to everyone as a team, rather than employees. "I don't have employees; we're all a team here and it's our job to make our customers happy," he said.
Toast and Jam is open Monday-Friday from 7 a.m. to 3 p.m. and on weekends from 6 a.m. to 3 p.m.
---
SECOND PLACE
You have free articles remaining.
Keep reading for FREE!
Enjoy more articles by signing up or logging in. No credit card required.
Center for Visual and Performing Arts
---
THIRD PLACE
Sophia's House of Pancakes