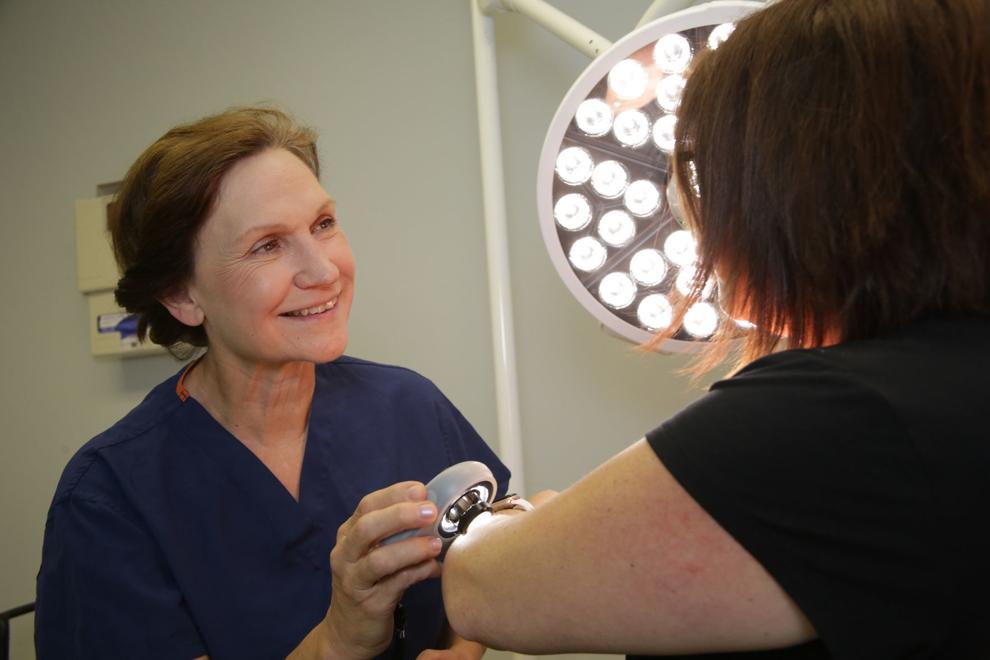 FIRST PLACE
Dermatology Associates of Northwest Indiana
3800 St. Mary Drive, Suite 204
For the third consecutive year, Dermatology Associates of Northwest Indiana has been voted Best of the Region for dermatology. What's the secret to their success?
"We all love what we do," said Dr. Karen Jordan. "Everyone who works in our offices has a passion for skin care and their part in keeping your skin healthy. When you love what you do for a living, it shows in several ways."
The bedside manner on display at Dermatology Associates gets rave reviews. "Many patients are fearful," Jordan said. "They don't know if these changes are skin cancer and are understandably concerned."
Most skin issues are not cancerous, and the team at Dermatology Associates works together to diagnose the reason for a change. "Our environment in Northwest Indiana can be harsh," Jordan said. "A lot of the changes we see are related to cold, dry air, sun, or other environment related conditions."
Dr. Donna Ward provides the latest medical treatment to help keep your skin healthy and glowing. Stress can cause skin problems and is a frequent underlying issue. "Your body has chemical reactions to stress, and that can cause skin issues, such as acne and shingles," she said.
"We are pleased to provide access to Skinbetter Science products for our patients," Jordan said. "We carry several products in our office, and we have access to their online store for the remaining products. The products are backed by decades of clinical research."
State-of-the-art laser hair removal, dermaplaning, and chemical peels are done in the office by board certified professionals. Medical treatments for skin cancer, moles, shingles, rosacea, and every malady are handled in-house by lasers, blue light, and photodynamic therapy.
Dermatology Associates believes everybody deserves the opportunity to have healthy and beautiful skin. Their team strives to provide the very best care in a comfortable, safe, and friendly environment.
---
SECOND PLACE
Dermatology Center of Northwest Indiana
A Forefront Dermatology Practice
---
THIRD PLACE
Dermio Dermatology
9200 Calumet Ave., Suite 203