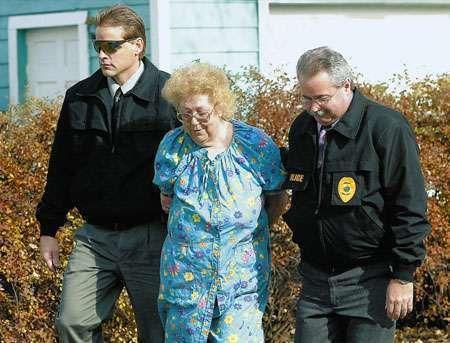 HOBART — After stirring drugs into her husband's coffee, Barbara Garcia waited for him to fall asleep.
Once he was asleep in their Hobart home on Oct. 30, 2003, Garcia, who was a licensed practical nurse, injected her husband with so much insulin that he died, according to court records. 
After she and her daughter were unable to load Cipriano Garcia Sr.'s body into a truck, they went back into the home to watch television. In the days that followed, they handed out candy to children for Halloween, Garcia got her hair done and she played a game of bunko while the pair figured out how to move the body. 
The women were eventually able to haul the body, which was wrapped in a rug, into a truck and dumped it down an embankment off Sauk Trail in Illinois, according to court records.
At her trial in 2005, Garcia told a Lake County jury she wanted to give her husband a "Viking funeral," because he did not want to be buried in a coffin. 
Cipriano Garcia Sr., 71, served two tours with the U.S. Army during the Korean War. He survived being a prisoner of war after he became injured during a bombing. He was later awarded the Purple Heart. 
Barbara Garcia admitted to hiding her husband's body so she could continue collecting his pension and Social Security benefits, but she denied killing him. The couple had been married for 41 years. 
The day Cipriano Garcia was killed, he told his wife he was going to remove her from his bank accounts. Barbara Garcia grew worried, because that would mean he would realize she had withdrawn $4,000 from the account to give to her daughter, Tammy Garcia, according to court records.
Barbara Garcia also had gambled away the couple's life savings during a 10-year period, and she had refinanced their home without her husband's knowledge.
She told jurors her husband wasn't perfect. She accused him of being cranky and of hitting her.
Jurors deliberated for 11-and-a-half hours before finding her guilty of murder. She was sentenced to 55 years in prison.
At her sentencing hearing, she said her husband died of a heart attack.
"The last few days he was alive, he was a monster, but I still loved him," Barbara Garcia said. "I'll never have him back." 
Garcia, who is now 73 years old, remains in the Indiana Women's Prison. 
Her daughter, Tammy, who helped move the body, was sentenced in 2005 to 18 months in prison for her role. Cipriano Garcia Sr. was not her biological father, but he had raised her as his daughter since she was 9 months old. 
Lake County Criminal Judge Salvador Vasquez told Tammy Garcia she had, "absolutely dishonored your father," during the sentencing hearing. 
In 2006, the Indiana Court of Appeals upheld Barbara Garcia's conviction and sentence. 
A year later, she petitioned Lake Superior Court for post-conviction relief. She alleged her conviction or sentence violated the U.S. Constitution, that her private defense attorney was ineffective and that her right to due process was violated. 
She argued in her petition that her confession was coerced by police detectives, and that her attorney later failed to argue against the confession being allowed at trial.
Barbara Garcia filed the petition on her own. In a letter asking Magistrate Kathleen Sullivan for an extension, she asked her to look at the request, "as if I was your mother, sister or daughter."
Her petition was denied in 2008. According to the Indiana Department of Correction's website, her release date is scheduled for May 10, 2028.