Ask long-time Northwest Indiana residents, and they'll tell you about the Whiting Refinery explosion on Aug. 27, 1955, an event vividly etched in their memory. But there was a big fire 100 years ago, too. The Lake County Times told the story on July 13, 1916.
"Whiting Has Spectacular Fire Last Night in Big Oil Still," the large headline on the front page proclaimed. "Thousands Leave Their Beds to Watch Progress of Fire," a subhead said.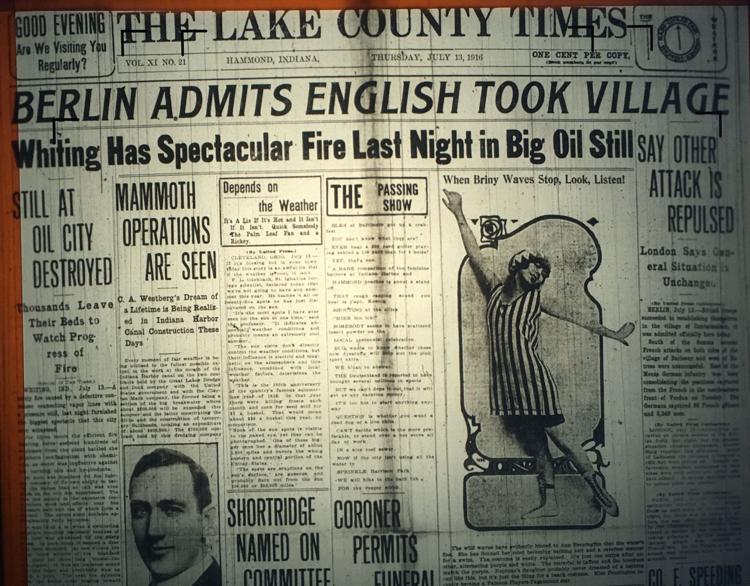 Spectacular is the right world for it.
"A costly fire caused by a defective condenser connecting vapor lines with a pressure still, last night furnished the biggest spectacle that this city ever witnessed," the story began.
"For three hours the efficient fire fighting force assisted [as] hundreds of workmen from the plant battled the stubborn conflagration with chemicals, as water was ineffective against the burning oils and by-products.
"So sure was Standard Oil fire fighting company of its own ability to battle the flames that no call was even made on the city fire department. The loss lies mainly in the expensive construction work and affects only one pressure still unit ten of which form a battery. The entire plant contains approximately forty batteries."
The story was filed without much punctuation, and a few words seem to have been AWOL as well.
The fire began at about 12:45 a.m., according to the story.
"In each home it seemed a door had been slammed. At one o'clock the deep toned whistle of the Standard Oil plant let three long blasts — the fire signal. It was an ominous sound for the town and everybody was up with a jump.
"The streets were literally choken with running people between whom dodged cracking motorcycles and snorting automobiles, all carrying their capacity loads toward the plant. It was a sort of midnight carnival for which the Standard Oil Company paid the bill," the story said. "The spectacle of gigantic flames leaping into the clouds as they found new food in the distilled and half distilled oils was offset by the tremendous heat that the fire threw off. It could be felt for blocks around."
Fortunately, no one was injured.