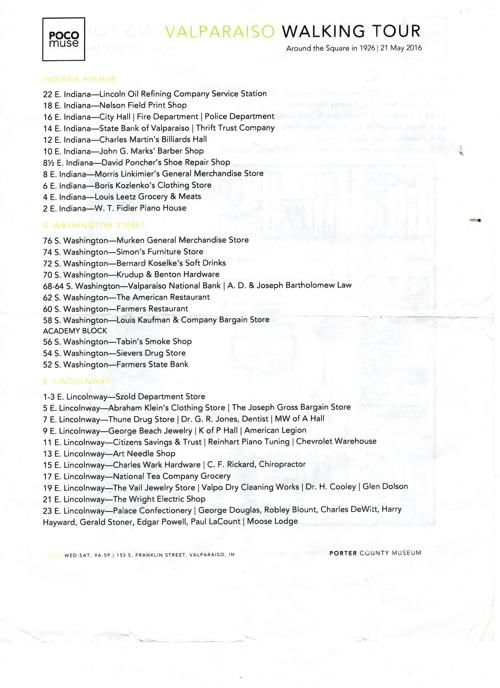 If it's a good day for a walk, try a stroll around Valparaiso's courthouse square. There's a lot of history in those buildings, and in the ones no longer there.
Porter County Historian Kevin Pazour led a couple of walking tours of downtown Valparaiso with 1926 as the theme. You can see the photos associated with that tour here.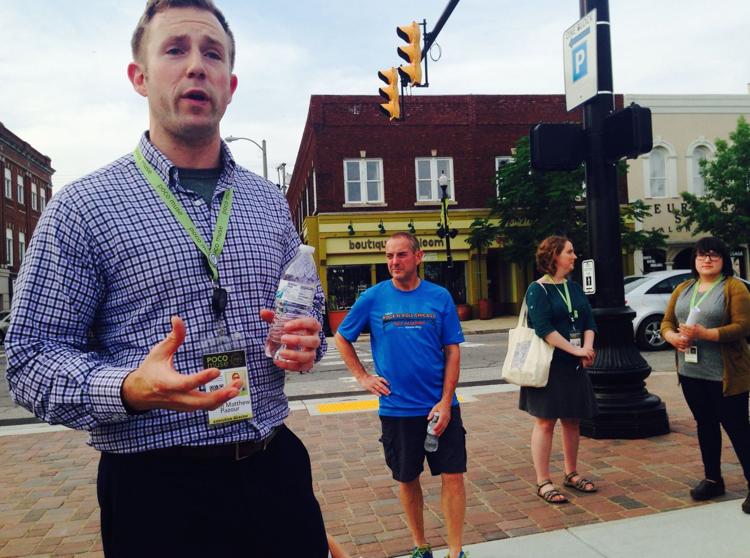 "A lot of the great downtown we have today was built in the 1920s," Pazour said.
"One of the biggest changes was Lincolnway. It was Main Street up until 1921." With the automobile craze in the 1920s, gas stations were popping up.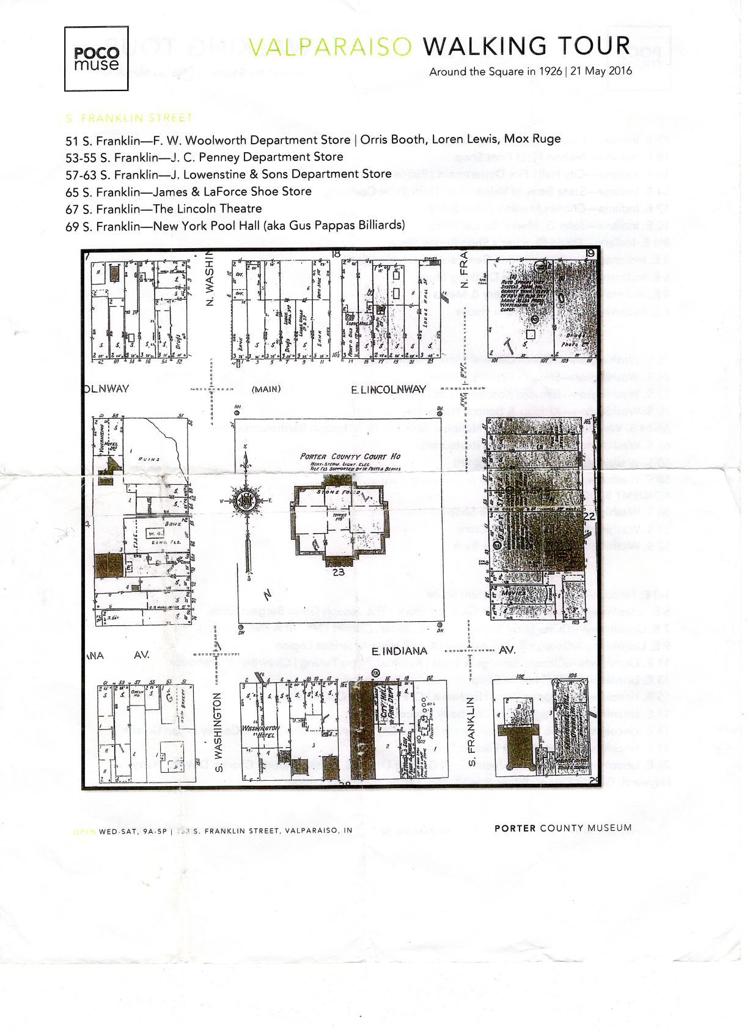 The county assessor's records reflect that change.
"1926 was the first time in Porter County history that there were more automobiles than there were horses. There were 4,000 automobiles; there were 3,800 horses in Porter County," Pazour said.
Next door to the Porter County Jail is the Memorial Opera House, which in the 1920s became one of the first theaters to acquire the new technology to show talkies.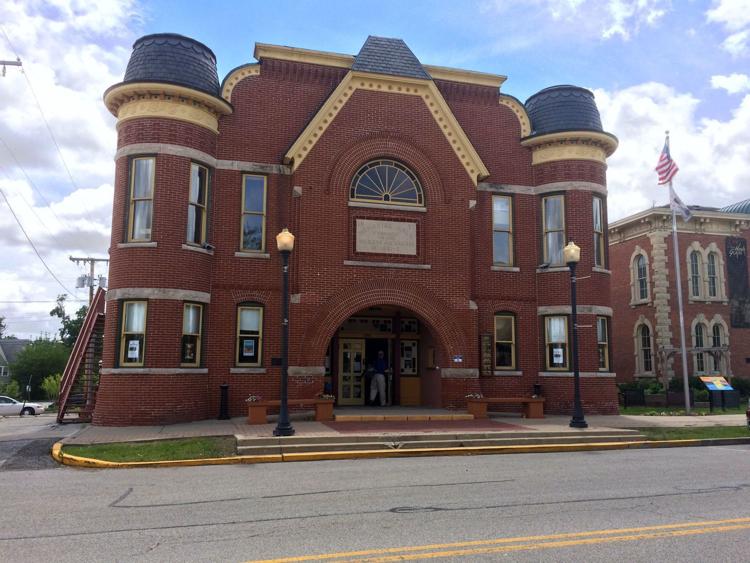 The courthouse, of course, is the centerpiece of the square. What you see today is a smaller version of its former self. After the 1936 fire, the county commissioners decided they didn't need such a fancy building and didn't rebuild the cupola that many county courthouses have.
The building is full of stories, but one Pazour told was particularly charming. It's set at lunchtime, in an era when people didn't eat at their desks to continue working.
"They forgot the commissioners were in session and locked them in to their chamber and then promptly left the building," Pazour said. "This newspaper article goes into great detail that they panicked; they tried to knock the door down, unsuccessfully. They even tried to jump out the window. Their game plan following that was just to scream as loudly as they could, and Bill Pennington, the sheriff at that time, came running." Pennington got a custodian to unlock the door and let them out.
"You would think that this would be something that would happen if they were locked in there for days. It turns out it was actually less than an hour."
"It was kind of funny that the article ends that all three commissioners kind of threatened Penny. It said that if he ever did it again, he would be fired and relieved of his responsibilities."
Keep Pennington in mind. We'll get to another story about him soon.
Indiana Avenue used to be Mechanic Street, because so many mechanics worked there. In the 1920s, Lincoln Oil Refinery Service was on the southwest corner of Franklin and Indiana, where Fidelity Title stands today.
Next to that spot are 16 Indiana Ave. and 18 Indiana Ave. It used to look like one building, but it was actually two. That will become more clear as the Porter County Museum expands into those two buildings.
No. 18 was a print shop in 1926. The storefront, which is being restored, will be the new entrance to the expanded museum. No. 16 was the central fire station with a city hall chamber on second floor. In later years, it became the City Hall and police station. City Hall then moved to the old downtown post office on Lincolnway at Napoleon Street, and the old R.W. Poole building on Washington Street was later repurposed into a police station.
But let's go back to 1923, when the city bought a new pumper truck.
"It was a common ploy across the country at the time that if you buy a bigger truck, you're going to need a new fire station. Not so much in Valparaiso." The old fire arch was cut out and a new, larger, opening put in with a garage door. "They said here you go, now you can fit your truck in just fine." The fire arch is being restored for the museum.
At 14 Indiana Ave. was the State Bank of Valparaiso. "There's a little plaque on the side that says something to the effect of keeping the driveway unblocked." There's no longer an alley there.
The southeast corner of Washington Street and Indiana was the site of a hotel building in 1926.
"The Merchants Hotel building was a very significant building as it was the first brick building constructed in Valparaiso, in 1856." Also, it was the first building with merchants on the lower level and hotel rooms on upper level — "a model that a lot of towns followed and still follow today."
There were some familiar names in that area, including John Marks Barber Shop. Linkimer's was a general merchandise shop and didn't focus on shoes until much later.
Louie Leetz, who had a grocery business, was where Figure 8 Brewing is now, 1928, became mayor of Valparaiso. He's known in the record as the "buttermilk mayor." Mayor William Spooner passed away unexpectedly, so the City Council members had to choose a successor from among themselves.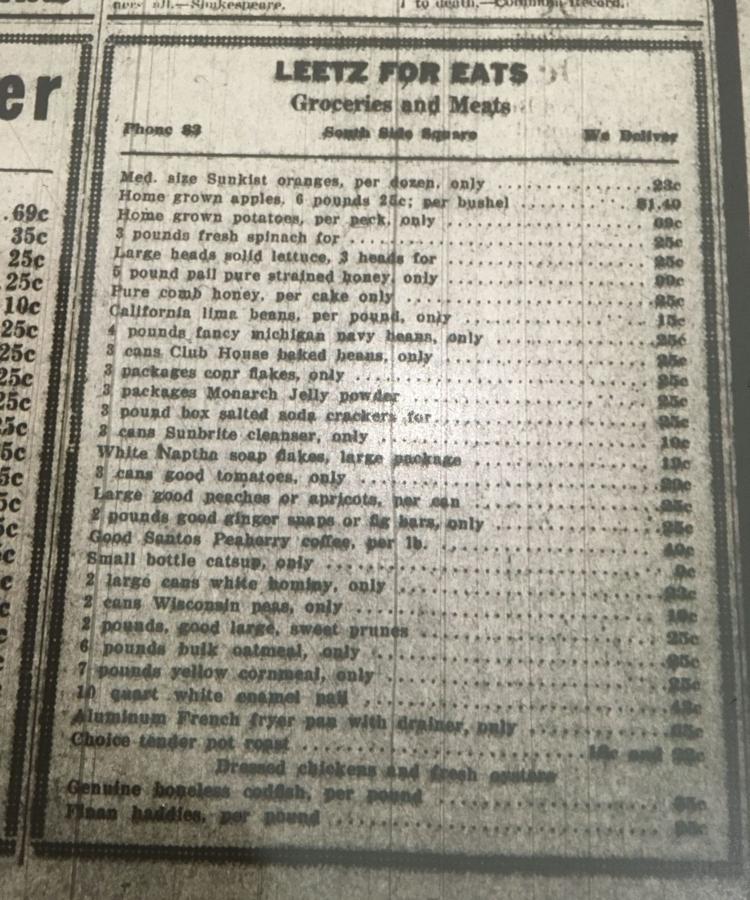 "I believe it was in July of 1928," Pazour said. "It was really hot. Everybody got together, and they couldn't figure out who was going to be mayor. Louie decided to run across to his grocery store, and he decided to grab some buttermilk because he thought everybody needed to cool off a little bit. And with that, everybody finished and said, 'You know, he should be mayor,' and then served the term then as mayor of Valparaiso."
Washington Street holds quite a story.
"The only remnant from this block is the store that is now occupied by Old World Market," Pazour said.
"In 1926 there was a lot of great change in Valparaiso." Ninety years ago was the first time McGill Manufacturing Co. produced ball bearings, for the Rolls Royce Co. It was unheard of at the time to build a new plant and produce goods in six months.
If you go just west of the Porter County Administration Building, the giant white government building, you'll find what looks like a futuristic doghouse. It was built in 1926 by Urschel Laboratories.
Across Washington Street from the courthouse was a building, built in 1864, that was known as Valparaiso Hall. The third story had a performance space. It became known as Academy Block.
"There was about a decade when people didn't like the term opera house, so they changed the naming," Pazour said. "That building saw so many different acts that would come in along the railway, perform here, and go on to perform in Chicago, and important people. In fact we have records that show Frederick Douglass came here and spoke in 1869 on that third floor."
My next blog post will tell of the tragedy that occurred there on Feb. 19, 1926.
Be the first to know
Get local news delivered to your inbox!