Democratic U.S. Senate candidate Baron Hill is vowing to walk 500 miles beginning Tuesday in South Bend. That walk across Indiana will cover a lot of territory.
Hill will hold a rally with supporters at 10 a.m. Central at UAW Local 5 before walking 15 miles to Elkhart.
His next steps (pardon the pun) will take him to Goshen, then Syracuse, then Pierceton.
Indiana Gov. Mike Pence met Friday morning with law enforcement and civil rights leaders following Thursday's assassination of Dallas police officers.
Pence directed the Indiana Civil Rights Commission and the Indiana State Police to reaffirm efforts statewide to work toward meaningful solutions to social problems and safeguard communities.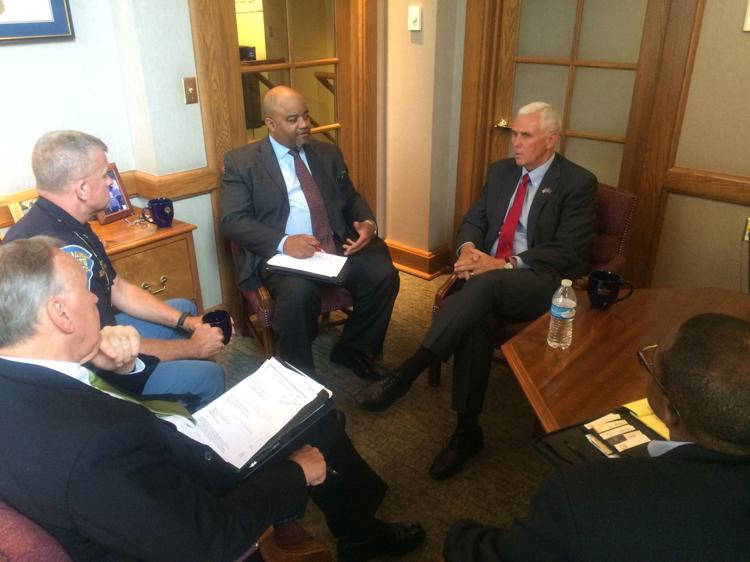 "As we mourn with those who mourn, now is also a time for Hoosiers to humble ourselves and reflect on how each of us might build bridges of opportunity and hope in struggling communities across our state. To heal our land, we must stand with those who protect and serve and continue to reach out with generosity and compassion for those in need," Pence said in a prepared statement.
"In light of the horrific ambush on law enforcement officers last night in Dallas, it is important that we reaffirm our commitment to public safety while encouraging and protecting the rights of all citizens because all lives matter," said Indiana Civil Rights Commission Executive Director Rick Hite.
Yellow striping on corn leaves is more prevalent this year than in the past, and you might be able to blame the federal government for it. Cleaner air resulting from U.S. Environmental Protection Agency rules could be causing a sulfur deficiency in the soil.
"We used to get quite a bit of sulfur from rainfall. The power plants would burn coal that had sulfur in it, so sulfur would be deposited in rainfall or absorbed directly from the air by the soil," said Purdue Extension soil fertility specialist Jim Camberato. "But over the last 20-25 years, these emissions have been reduced, so perhaps now the amounts in rainfall and atmosphere deposition are low enough that plants are not getting enough that way anymore."
Wet deposition of sulfur, or sulfur absorbed into the soil from rainfall, decreased by an average of 62 percent in the eastern United States from 1989 to 2013, according to data collected by the U.S. Environmental Protection Agency. The primary source of wet sulfur deposition is through precipitation, known as acid rain.
When yellow striping occurs on corn leaves, it is best to send soil and tissue samples to a private lab for nutrient analysis, Camberato said. Samples should be taken from both healthy and affected areas of the field for comparison.
A Women for John Gregg fundraiser is planned for next Wednesday at Woodland Park in Portage.
Organizers are urging support for Democratic gubernatorial candidate Gregg, who they say is "the candidate who supports women and families."
News from the East Branch office
The National Park Service is seeking public comments on the just-released environmental assessment for the "East Branch Little Calumet River Use Management Plan" for Indiana Dunes National Lakeshore.
This document is a joint effort by the National Park Service, the U.S. Forest Service, and the Urban Waters Initiative. It looks at recreational opportunities and their environmental impacts.
The 30-day comment period began Friday. Read the environmental assessment online or at the Indiana Dunes Visitor Center, 1215 N. Ind 49 in Porter or Indiana Dunes National Lakeshore headquarters, 1100 N. Mineral Springs Road in Porter.
You're also invited to a public meeting on the plan from 6:30 p.m. to 8:00 p.m. July 20 at the Indiana Dunes Visitor Center.
Comments must be received by Aug. 8. Use the form online or mail them to Paul Labovitz, Superintendent; Attention: Gia Wagner, Branch Chief, Natural Resource Management; Indiana Dunes National Lakeshore; 1100 N. Mineral Springs Road; Porter, IN 46304-1299
DeKryger nails Purdue board
A familiar name in Jasper County has been been appointed to the Purdue University Board of Trustees to serve a three-year term through June 30, 2019. Malcolm S. DeKryger, is president/CEO of Belstra Milling Co. Inc. DeKryger is also president of the Covenant Christian High School Board, a member of the Indiana State Department of Agriculture Advisory Board, and a member of the Purdue University College of Agriculture Deans Advisory Council. He received his undergraduate degree from Calvin College in Grand Rapids, Michigan, and his graduate degree from Purdue University.
How I spent my summer vacation
U.S. Sen. Joe Donnelly, D-Ind., highlighted U.S. counterterrorism efforts in the Middle East and Asia following his bipartisan trip to Afghanistan, Pakistan, and Israel. Donnelly serves on the Senate Armed Services Committee.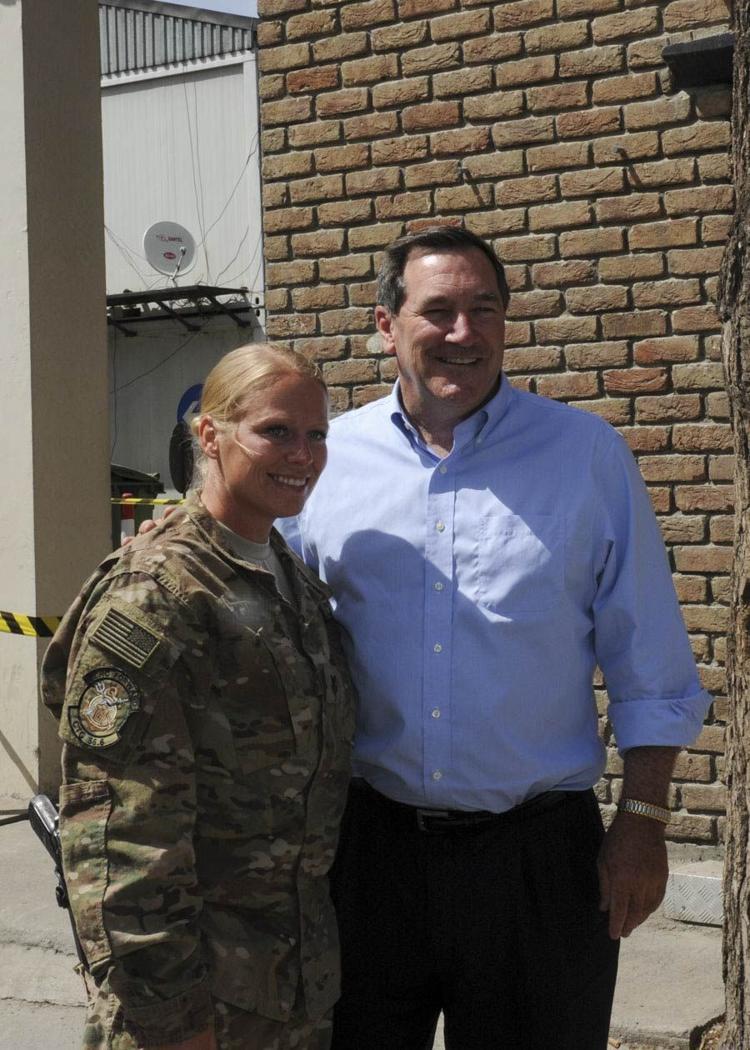 "Terror attacks on our homeland are often inspired or orchestrated by violent extremist groups based overseas," Donnelly said. "I traveled to Israel, Pakistan, and Afghanistan to discuss shared security concerns with foreign leaders and review U.S. and partner nation counterterrorism operations firsthand.
"While we face complex security challenges, what I saw on this trip confirmed without a doubt that our nation has the best, most advanced military in the world, working every day to keep us safe. I had the honor of spending Independence Day with some of the brave Hoosiers deployed now in Afghanistan, protecting our security, and defending our freedoms. We owe these men and women a tremendous debt of gratitude for their service.
"It is also clear that in order to defeat violent extremism, we need a coherent, comprehensive counterterrorism strategy, both at home and abroad."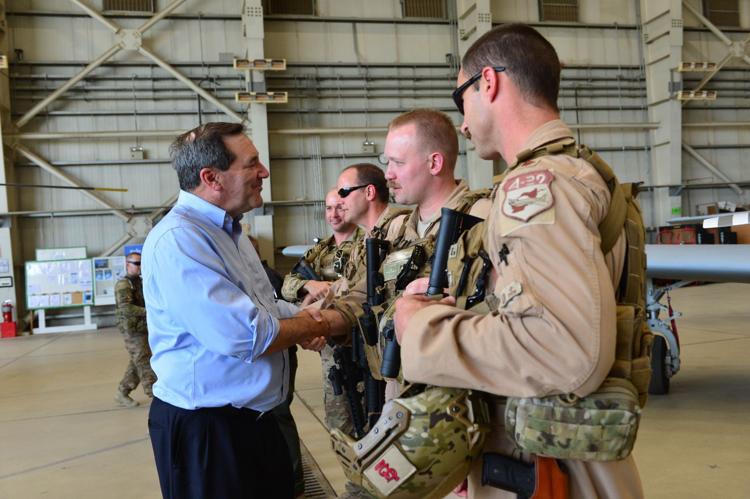 In Afghanistan, Donnelly visited Hoosier servicemembers at Camp Resolute Support in Kabul and met with American servicemembers training the Afghan Air Force and other elements of the Afghan security forces. Donnelly and the delegation met with Afghan President Ashraf Ghani and Chief Executive of Afghanistan Abdullah Abdullah. He also spoke with U.S. leaders there.
In Pakistan, Donnelly and the delegation met with the country's civilian and military leadership to discuss ongoing counterterrorism operations. Donnelly also traveled to Miram Shah in North Waziristan, once a hotbed of terrorist activity, to review Pakistan's frontline efforts to improve security along the Afghanistan-Pakistan border.
In Israel, Donnelly and the delegation met with Israeli Prime Minister Benjamin Netanyahu and discussed the U.S.-Israel counterterrorism partnership, including ongoing negotiations on a new 10-year security military aid package between the U.S. and Israel.
Traveling with Donnelly were Sens. John McCain, R-Ariz.; Lindsey Graham, R-S.C.; and Ben Sasse, R-Neb.
Sen. Dan Coats, R-Ind., chairman of the Joint Economic Committee, highlighted $59 billion in improper Medicare payments — because of fraud or bureaucratic mismanagement — during his 47th Waste of the Week speech on Thursday.
The Centers for Medicare and Medicaid Services, which administers Medicare, "is one of the worst offenders in the federal government for improper payments, totaling $59 billion in a single year," said Coats. "To put this in perspective, $59 billion represents nearly 10 percent of the total amount Medicare spent that year."
Last month, the Medicare trustees projected that Medicare Part A will be insolvent by 2028.
Coats highlighted the Medicare Fraud Strike Force. Recently, the Strike Force uncovered a ring of over 300 people — from physicians and pharmacists to nurses and government officials — that allegedly conspired to defraud Medicare out of over $900 million. Some of the bills were for procedures the providers claim took place after the patient passed away. Others were for home health care, which is reserved for bedridden seniors, for services that weren't even provided.
Be the first to know
Get local news delivered to your inbox!