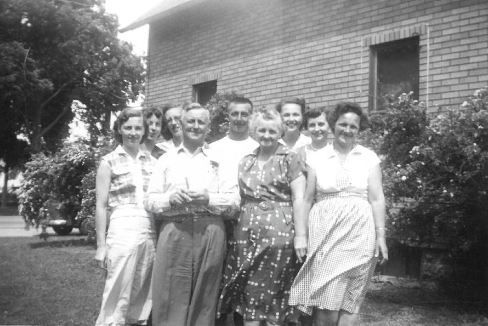 Some times when I'm researching an ancestor, I become extremely focused on that one individual.
I'm trying to trace his or her roots, others be darned if they get in the way.
But, that's not the only approach to getting the sense of an individual and what they were like a century or even a decade ago. Just like today, we don't live in a bubble. We all live in communities surrounded by others.
That's why it is sometimes important to FAN out when you're doing your research. Look not only at the individual, but at that persons Friends, Associates and Neighbors (FAN - you may want to add another F to that for extended family). By getting a sense of where that person lived, who lived near him or her and who they hung out with, it can give you a better, fuller picture of who that person was and what his or her life was like.
Its also a good research tool when you've hit a brick wall.
As I was researching my paternal line, I learned one of my 2nd great grandfathers died in 1920, shortly after that federal census was taken. I had traced Claiborn Ayers since his birth in 1849 through censuses and other sources including his marriage to Nancy Catherine Broyles in 1872.
But when Claiborn died in August 1920, I also lost Nancy Catherine. Search as I might, I couldn't find her in the 1930 census or find any death records indicating she too had passed. I emailed a genealogist in Campbell County, Tennessee where my ancestors lived to see if she had any records. She didn't, however, she gave me a clue. Claiborn and Nancy had had seven children. I had only been keeping track of one - my great grandmother Lucy Ayers Russell. The genealogist advised me to FAN out - widen my search. Find Nancy's other children because it was not uncommon at that time for a widowed mother to live with an adult child and his or her family.
Sure enough, as soon as I widened my search I found Nancy Catherine, in both the 1930 and 1940 federal censuses living with her son Pryor and his family.
There are other reasons to look more broadly. When I pull up a census for an ancestor, I have learned to take a broader look. Sometimes what you find is telling and, as I said, helps paint a broader picture.
I took a look at my maternal grandfather's, Ernest Schulze, world through the census. Born in 1895 in Chicago, I recently scanned his neighborhood in the 1910 census. Living on West Harvard Street in Chicago, what struck me was what a melting pot it was. While my grandfather was born in Chicago, his parents were born in Germany. They lived in a neighborhood of immigrants. Most of those living on West Harvard Street were no more than first or second generation Americans. They came from Germany, Ireland, Italy, Russia, Wales, Scotland and Canada. What an interesting neighborhood that must have been.
Fast forward to my Grandpa Schulze's 1930 census. He and my grandma and their five children are living on Gary Road in what is now Portage. While my grandfather is an auto mechanic, I glance through the occupations of his neighbors. More than half work in the steel mills - machinists, millwrights and laborers. There are also a few farmers living in what was then "the country." What does that tell me - what kind of picture does it paint? I see a hard-working, blue collar neighborhood.
There are more examples of what can be learned by broadening your horizons while you work on your family's history. While its good to be focused when trying to solve a mystery of a particular individual, its also good to FAN out every once in a while.