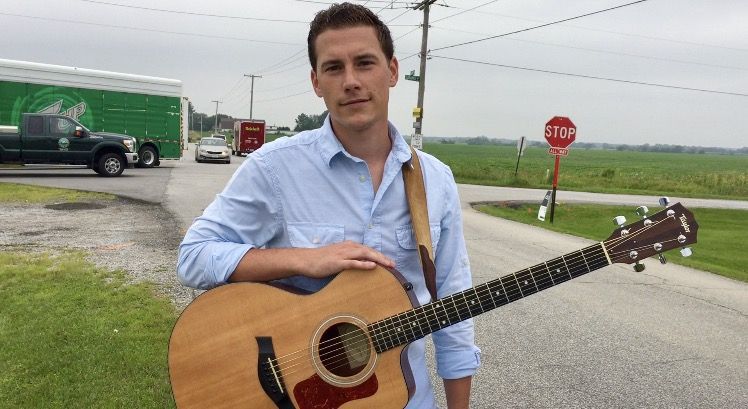 Many of us in the Region have driven through or have been stopped at the intersection of 109th and Calumet Avenues in Hanover Township – the intersection famous for being known as "Shoe Corner."
For decades Shoe Corner has been a dumping ground for shoes that seem to appear and disappear without many witnesses.
Maybe we look at the shoes, throw some shoes, or collect some shoes.
But did anyone ever think to write a song about the shoes?
The Crown Point musician was driving home from Chicago one day in early spring of 2016 when was in a line of traffic backed up at the stop sign at the intersection of shoes.
"I started thinking about Shoe Corner and all the shoes," Ruvoli said.
Ruvoli started to come up the lyrics, "Take me down to shoe corner where dreams…" and kept adding to it as he drove home.
"By the time I got home, I had the whole chorus finished and I just kept repeating it until I got inside to write it down," he said. "Then I spent the rest of that evening writing the rest of the song."
Ruvoli said he looked up various articles about Shoe Corner and its origins.
"I took two of the common stories about the man that worked for money or shoes and the lady that would be seen picking through the shoes often, but later was never seen again,' he said.
"Shoe Corner" ended up on Ruvoli's 2016 Places I've Been EP. 
"A lot of people like it," said Ruvoli, who recently shot a video of the song for The Times at Shoe Corner itself.
It was a sports injury that kickstarted Ruvoli's music career. After graduating from Lake Central High School, Ruvoli attended Wabash College where he played baseball. During his freshman season he tore a lat muscle.
"As a catcher I threw all the time," Ruvoli said. "And with that tear it made it difficult to perform on an everyday basis. So I hung up my cleats and saw a busy schedule of practices, workouts, games and travel turn into free time."
During that free time Ruvoli purchased a guitar from a fraternity brother and began learning songs on YouTube. He started writing songs, and by his senior year he performed his first show while home for Easter break. 
After returning to school, Ruvoli was the opening act for country music singer Clayton Anderson during a campus concert.
"I graduated and came back to the Region and started to attend open mics to work on performing, meeting other musicians, and to get my name out there," Ruvoli said. "I started getting the opportunity to perform more frequently in the area."
Ruvoli is currently working on a new album slated for release in October. As with "Shoe Corner," Ruvoli wrote a song for the new record about another well-known Region locale called "Wells Beach." 
"It's basically a song reminiscing on high school days," he said.
 Another song on the upcoming Dreamers is "Monkey Call," which Ruvoli has already been performing live.
"That's one I think a lot of people are waiting to hear," he said.
Ruvoli's biggest musical influence is Dave Matthews. Others include John Mayer, Neil Young, the Grateful Dead and Bob Dylan. 
"I have such a mixture of influences," he said. "On the EP not every song has the same similar sound. The same thing is shaping up for the new album."