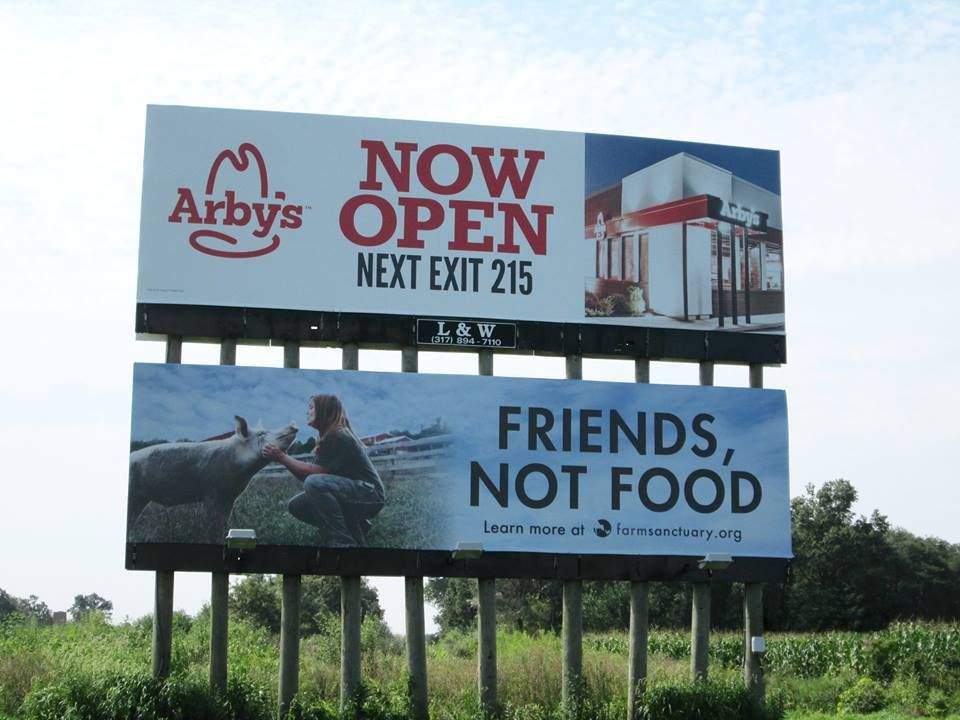 Having made plenty of trips over the last couple of years to the Purdue Small Animal Hospital in West Lafayette with a sick dog, I have had time to reflect as a vegan on all the billboards along I-65 promoting Fair Oaks Farms.
The signs feature baby pigs and cows presented as though they are having the time of their lives at Fair Oaks. I will spare you the details here, but a simple Google search on the treatment of farmed animals will present quite a different picture than those featured on the farm's billboards.
I have often thought about how great it would be to put up a billboard in the area telling the other side of the story of farmed animals.
Well, turns out someone else was thinking the same thing.
There is now a billboard along the west side of I-65, just north of Fair Oaks Farms in Fair Oaks, Ind., that features a woman and pig affectionately staring into each other's eyes. The billboard reads, "Friends, Not Food."
The positioning is even better in that hangs just below a sign for Arby's fast food restaurant, which boasts about serving up to at least eight different types of meat.
The sign was the idea of a fellow Hoosier, who was troubled by Fair Oak's promotion of a "Pig Adventure" that ends in slaughter, according to a social media post by the Farm Sanctuary based in Watkins Glen, N.Y.
The woman wondered, "What if she put up a billboard above that interstate spreading a message of kindness, rather than cruelty," said Lindsay Morris, senior manager of communications and marketing at Farm Sanctuary.
The woman contacted Farm Sanctuary, which helped with the design and included its website as a source for more information, Morris said. The woman is funding the billboard for a year.
News of the billboard has made its way around social media and has attracted a favorable response, she said. 
"Additionally, we've received inquiries from individuals who want to fund/put up other 'Friends, Not Food' billboards in Michigan, Illinois and South Dakota, as well as in South Bend," Morris said.
What excites Morris about the project is that it came about at the grassroots level, from an individual who was simply, "tired of seeing so many billboards celebrating cruelty and took action to put out a positive, compassionate message."
Bravo to all involved in this effort. It has made my trips to Purdue that much more satisfying.
The opinions expressed here are solely that of the author.
Be the first to know
Get local news delivered to your inbox!