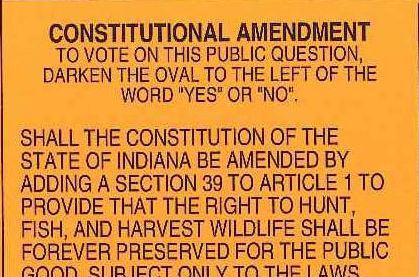 Of all the problems facing the state, our lawmakers have placed among their priorities opening the state constitution to lock in the right to hunt and fish.
Yup, you heard that right.
After 200 years of undisturbed hunting and fishing in the state, the Republican-controlled General Assembly, backed by the National Rifle Association, has gone to the trouble and cost of twice approving the question so it can be placed before voters on the current ballot.
I have heard several early voters say they were unsure what the referendum was asking and thus did not know how to respond.
I looked for an explanation on the Indiana Secretary of State's Election Division website, but found nothing. They do list lots of other helpful information, including plenty of juicy details about the judicial retention questions on the ballot.
After hunting elsewhere (no pun intended), I found the wording of the referendum. It says: 
"Shall the Constitution of the State of Indiana be amended by adding a Section 39 to Article 1 to provide that the right to hunt, fish and harvest wildlife shall be forever preserved for the public good, subject only to the laws prescribed by the General Assembly and rules prescribed by virtue of the authority of the General Assembly to:
(1) promote wildlife conservation and management; and
(2) preserve the future of hunting and fishing."
The sponsor of the referendum, state Rep. Sean Eberhart, R-Shelbyville, has said the move "adds a layer of protection to those liberties and protects the people of our state against any future infringement."
Balderdash, said state Rep. Matt Pierce, D-Bloomington, who said there's no need for the amendment since hunting and fishing are in no way threatened in Indiana. He has said the amendment is so broadly written that a future General Assembly determined to stamp out hunting and fishing probably could.
He also said putting a right to hunt and fish alongside the more essential guarantees of free speech, free press, religious freedom and civil rights in the Indiana Constitution cheapens the state's primary governing document.
This appears to be one of those special interest moves designed to rile up voters and get them out to the polls. (As though there is not already reason enough for voters to be agitated and voting).
Considering all the craziness of this election season, I would love to see a referendum to lift the ban on alcohol sales while the polls are open and then tuck that liberty safely into the state constitution. That could well be the one remaining issue most everyone would get behind.
Be the first to know
Get local news delivered to your inbox!