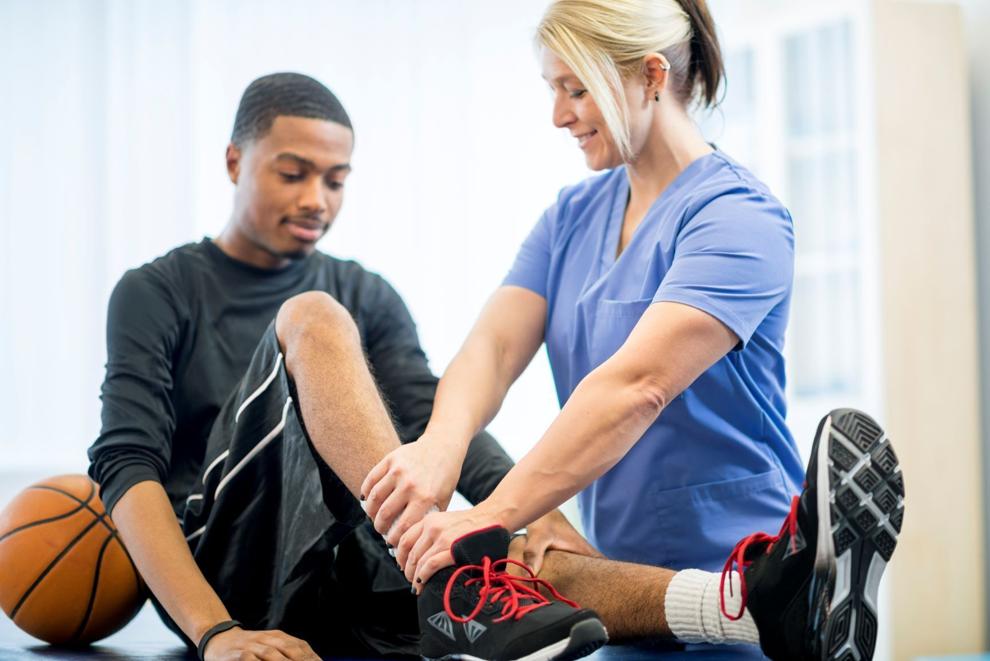 As businesses, events and activities open back up after COVID-19 closures, athletes are able to rejoin their teams and enjoy the sports they love. And while participating in sports is wonderful for health and camaraderie, these activities also open up the possibility for injury or illness. Midwest Express Clinic can help treat these medical concerns and get you back in the game.
Here are six common sports injuries and ailments the medical providers at Midwest Express Clinic frequently treat – plus, some prevention tips.
1. Sprains and strains
Spraining a ligament or straining a muscle or tendon are common injuries seen in all types of strenuous activity. With any type of pain, it's best to get it looked at to be sure it's nothing major. It's easy to think a simple strain, muscle soreness or sprain will heal on its own, but often these minor injuries can lead to more serious injuries. Play it on the safe side and have sprains and strains looked at.
Preventing sprains and strains is not always possible; however, warming up and stretching can help with injury prevention. It's important to make sure you are performing exercises, sporting activities and heavy lifting properly to avoid strains. In addition, resting your body after strenuous activity is recommended as it gives your body time to heal. 
2. Fractures and dislocations
It's common for athletes to experience fractures or dislocations. Both are painful and cause swelling and bruising. Since these types of injuries happen quickly, Midwest Express Clinic's walk-in clinics are able treat them without an appointment. Patients are also able to check in virtually to reserve their spot in line.
Midwest Express Clinic may need to X-ray the area to see the severity of the injury. This will allow the medical provider to decide the best treatment, from surgery and casts to physical therapy and pain medication.
Prevention of fractures and dislocations is difficult since these injuries tend to happen without warning. Using proper sporting equipment can help prevent, or at least minimize, these types of injuries. It's important to use any sporting or workout equipment properly.
3. Cuts, scrapes and lacerations
If you play hard, sporting activities can easily lead to scrapes, cuts and lacerations. It's easy to fall or scrape yourself while running, riding a bike, etc. Midwest Express Clinic will properly clean and dress wounds and the staff can identify if a tetanus booster is needed. They can also close a gash with stitches if necessary.
4. Asthma attacks
Getting back into sports means more physical activity, and with summer heating up, asthma attacks are top of mind for those who have Asthma. Midwest Express Clinic understands when an asthma attack occurs, a patient cannot wait to be seen by a medical professional. Midwest Express Clinic's urgent care does not require an appointment and will make patients struggling with asthma a priority.
It's important to always have your medically prescribed inhaler with you if you have been diagnosed with Asthma.
5. Rashes: Heat rash and rashes from plants
As the summer heat sets in, the opportunity to develop rashes increases.
Heat rash occurs in hot or humid weather when sweat ducts clog. The symptoms are clusters of pimple or blister-like bumps. If you are experiencing heat rash, make sure you get out of the heat and have the medical providers at Medical Express Clinic provide treatment.
Another rash common during sports activity is caused by plants. Hiking, biking, running, rock climbing, etc. can bring people in close contact with rash causing plants such as poison ivy, poison sumac or poison oak. The best way to prevent this type of rash is to know what these plants look like and avoid them.
If you are experiencing a rash and are unsure of the cause, the medical providers at Midwest Express Clinic can help you. And the good news is, no appointment is needed.
6. Fungal infection such as athletes' foot or jock itch
Returning to sports means sweating in tight workout gear, undergarments or sports equipment for an extended period of time. This moist, dark environment is ideal for fungi growth. If you are experiencing dry, scaly, itchy or burning skin you may have a fungal infection. Midwest Express Clinic can diagnose and treat these types of infections.
The best ways to prevent fungal infections is to keep skin clean and dry — this includes socks and undergarments.
Midwest Express Clinic is here to help
Midwest Express Clinic medical providers urge anyone with a possible medical concern to seek medical assistance as soon as possible. Not only should you not have to deal with the pain of a sports injury or ailment, many medical issues that are left untreated can lead to more severe problems. Midwest Express Clinic's patient-first approach will have you back in action as soon as possible so you don't let your team down.
Why make assumptions when it comes to your health, when you have a clinic on your side? Midwest Express Clinic can diagnose and treat your injury or ailment without the expensive cost of an ER visit. Plus, most major insurance carriers are accepted. Click here for list of accepted insurances.
While many sports injuries and ailments are not preventable, some are. Midwest Express Clinic provides physicals for school sports and camps, which is a great a way get ahead of any possible health issues. Check in on your child's health before they start the next season or summer camp.
---
This content was produced by Brand Ave. Studios. The news and editorial departments had no role in its creation or display. Brand Ave. Studios connects advertisers with a targeted audience through compelling content programs, from concept to production and distribution. For more information contact sales@brandavestudios.com.