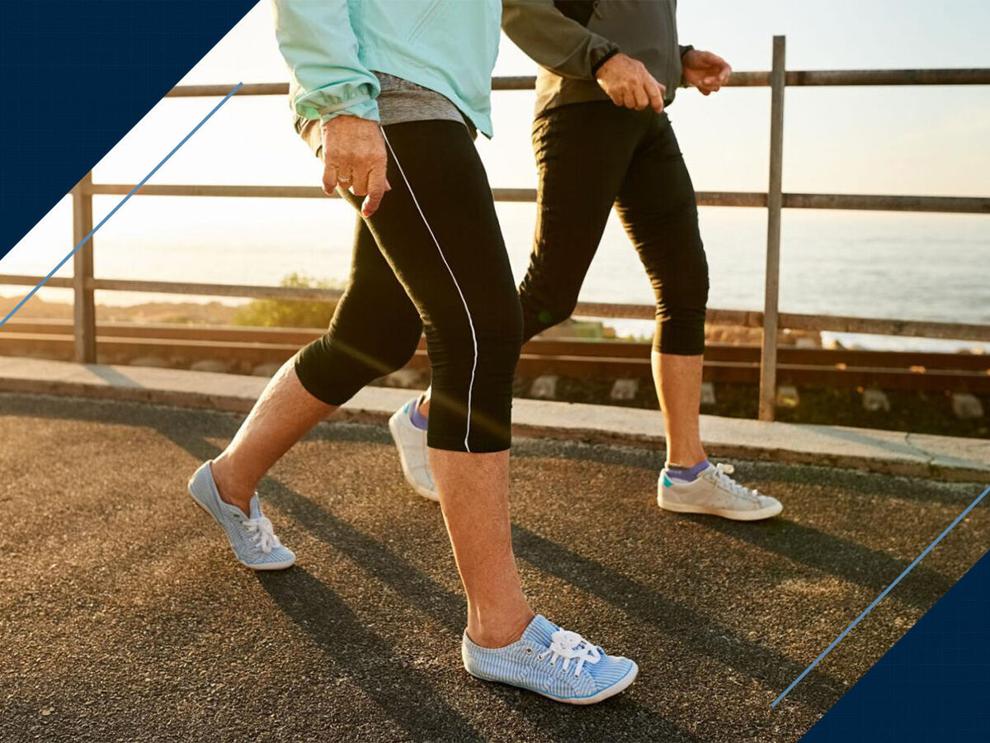 As Midwest Express Clinic launches its first-ever "Step Up with Midwest Express Clinic" challenge, the importance of walking for your health is now more newsworthy than ever. The #StepUpMEC challenge, which launches June 14, was created to motivate people get moving as summer arrives and as Covid-19 restrictions decrease.
Midwest Express Clinic created this challenge for two important reasons. First, to inspire local residents to get moving and improve their health. And second, to help various local charities at the same time; the weekly winner of the challenge gets to choose a local charity to receive $1,000, donated by Midwest Express Clinic. To participate, all you need to do is a share a photo of you walking or running with the hashtag, #StepUpMEC. It's that simple.
Why is walking so important?
Working toward a healthy heart can be as easy as a walk around the park. While walking is often underestimated as an important physical activity, its benefits are well-known throughout the medical community. Not only can it improve cardiac risk factors, but walking is also a simple way to increase your weekly physical activity levels and protect your body against future disease and illness.
According to Harvard Health, the benefits of walking and any other physical activities depend on intensity, duration and frequency. As a low-intensity activity, walking is often ranked below the more strenuous cardio exercises, but this does not make it any less beneficial to your body and its vital organs.
Recommended walk time
It is recommended that adults aged 18-64 add 30 minutes of walking to their daily schedule for at least five days a week. The National Heart Foundation of Australia found that these 150 minutes can lower the risk of heart disease and stroke by 35% while also lowering your risk of Type 2 diabetes by 40%.
The idea is that walking increases your heart rate which in turn increases your blood circulation, delivering more oxygen and nutrients to your organs. When you frequently participate in physical activities, like walking, that get your heart rate up, you provide your heart and body with the tools it needs to stay healthy and protect itself from underlying issues and disease.
Benefits of walking for heart health
Adding the recommended walking time to your day can improve your cholesterol, blood pressure and vascular inflammation, which are all contributing factors to your heart's health and function. If you do not have a full 30 minutes to set aside in your schedule, try a 10-minute brisk walk and work your way up from there. Making choices as simple as walking to get lunch rather than ordering in can easily help you build up your heart's strength and increase your daily physical activity levels.
Check with your doctor
Whether or not you have active concerns, it is recommended that you regularly check in with your physician about your heart health. There are many factors that play into your heart's health like cholesterol levels, blood pressure, glucose levels, diet and physical activity. Talking to your doctor and undergoing cardiovascular screenings every two years, as recommended by the American Heart Association, are the best ways to monitor how your daily choices are affecting your heart health.   
"Walking is a simple way to improve your heart health, and when you take care of your heart, the whole body benefits, both physically and mentally," says Kaitlyn Steinberg, FNP-BC, Clinical Resource. "However, if you neglect to give it the care it needs, the early indications of issues may not be as obvious. Regular check-ins with your doctor and heart-health screenings will make it easier to determine the choices you need to make to keep your heart healthy."
---
This content was produced by Brand Ave. Studios. The news and editorial departments had no role in its creation or display. Brand Ave. Studios connects advertisers with a targeted audience through compelling content programs, from concept to production and distribution. For more information contact sales@brandavestudios.com.