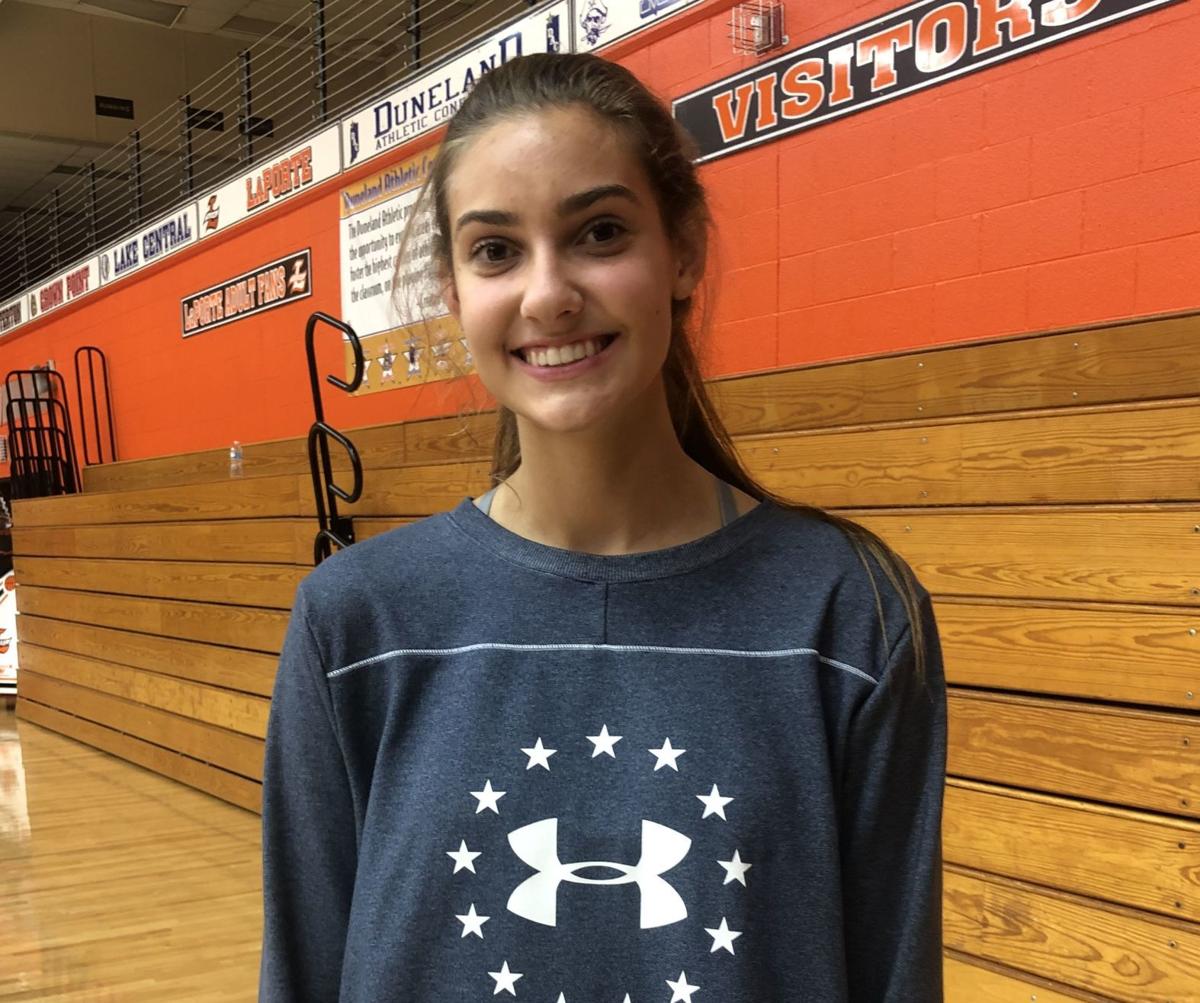 LAPORTE – Lilly Stoddard stands 6-foot-3 and can already dunk a basketball.
On Thursday night, LaPorte's volleyball team found out that the Crown Point sophomore is also quite proficient at blocking volleyballs.
Stoddard had six blocks and a team-high 12 kills as Crown Point handed LaPorte its first Duneland Athletic Conference loss in nearly two years with a 25-23, 28-26, 21-25, 25-23 win over the Slicers.
The Bulldogs (4-2, 2-0) are a talented group from top to bottom. Against LaPorte, Stoddard was playing on another level.
"My confidence has gone up a lot," Stoddard said as she's entering just her fourth year of playing volleyball. "My coaches and teammates have been great. We were all a little nervous tonight. We all really wanted to win, especially with them beating up twice last year."
Stoddard, who averaged 5.4 points per game for the Crown Point basketball team last year, has a hard time choosing between basketball and volleyball. She's getting plenty of collegiate interest for basketball already and the volleyball offers will come next summer. Recent rule changes have prohibited college coaches from making official scholarship offers to freshmen or sophomores.
"I've been playing basketball since I was five and I picked up volleyball in middle school," Stoddard said. "I started playing in seventh grade. I love playing both sports right now."
The Slicers ran the table in the DAC last season, but it was clear from the opening serve that Thursday's game was going to live up to the hype of a key early-season conference tilt. Just as Stoddard paced Crown Point, Aniya Kennedy did the same for the Slicers (7-2, 1-1). Kennedy had a game-high 24 kills to lead LaPorte.
"This was a very exciting match and we're going to need to be better at blocking Aniya the next time we play them," Crown Point coach Alison Duncan said. "This was a great win, but it's over now. We've got to stay focused and we've got to stay humble."
Crown Point showcased its depth as senior setter Oliva Panepinto returned to action after missing first five matches of the season due to a leg injury. Panepinto underwent surgery on her right leg earlier this month and came back to have 10 assists and two kills in her first game of the season.
"I was in excruciating pain and my fever was up to 103," Panepinto said. "We knew something was wrong. We went to get it looked at and it was a leg infection. They took a chunk of my leg out. My athletic trainer did a good job of packing it and getting me back. I double hit a ball early, but my teammates picked me up and I was right back out there."
Maddie Banter had 10 kills for the Bulldogs while Rachel Rossman added 32 assists and 10 digs.
Be the first to know
Get local news delivered to your inbox!